I've been having such a hard time with this because I'm so bad at making Portraits…
I'd be so happy if someone recreated this messed up portrait…
The way the provided image is formatted uses too many colors and pallets to be fixed easily. With GBA portraits you generally want to stick to one pallet (one row of 16 colors on the right side of the window. 15 are for the portrait and 1 is for the transparent layer).
Assuming you're splicing 2 or more portraits together, download and try Usenti for your portraits if you aren't already. It's fairly easy to use. Take your time and make sure your colors are limited, you will find it's much less frustrating to do your splices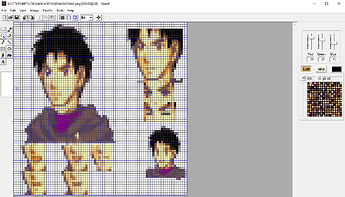 Stop begging and stop bumping your own posts within such a short period of time.
And categorize your topics properly.