DSFE Style Avoid in FE5
Yes folks, you heard that right, this is now a thing. But before I get into that, I ought to thank Ultimage for the help. I had this sitting around since October because I was having problems with trying to make the FE5 master buildfile work, but eventually I decided to say, "Screw it, I'm using a hex editor." It works out in the end because I had the hexcodes needed in a discord channel.
Anyways, let's get onto the main event.
In vanilla FE5, avoid is calculated by [2(AS) + Luck] before Authority Stars and Supports were taken into account. So here we have Osian in Vanilla FE5 Chapter 1, but I moved him out of Support Range with Eyvel. Here he has 9 AS (Iron Axe weighs 10) and 3 Luck, with 2 Authority stars on the map.
This grants him 2(9) +3 + 3(2) = 18 + 3 + 6 = 27 Avoid.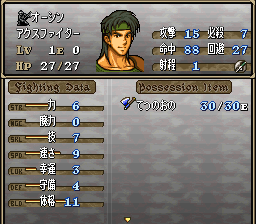 However, in DSFE Avoid, The Avoid Formula is just AS + (Luck/2[rounded down]), so by implementing it in FE5, Osian's Avoid is has been altered to be the following:
9 + (3/2, rounded down) +3(2) = 9 + 1.5 + 6 = 15 + 1 = 16 Avoid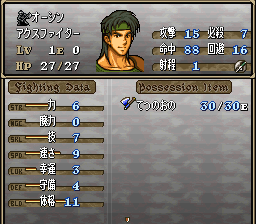 How to: Kill dodgetanking, Zweifaches Lichts style

Here's the Cawlin, and make sure to look at the READMEFORCRYINGOUTLOUD if you're stuck, or reply here.