Hello. I've been making animations on and off for GBA FE over the course of approximately 3 years now. I've been meaning to put them all out here before, but I couldn't do it until I felt like I had enough to back up my claims of skill with. Hopefully what you see below lends to my credit.
(Many of these animations appear in my romhack, Shackled Power. These animations are NOT FREE TO USE unless I specifically state as such. If they are, you'll find them in the graphics repository.)
Vanilla Edits




Archer and Sniper edits featuring tights and a head veil. It was used for Vesper in Shackled Power and is F2U.




Falcoknight featuring a ponytail, belt and tights. Was used for Aspria in Shackled Power and is F2U.
Edits with Custom Movements

I define this section as utilizing significant parts of a vanilla animation, but directly changing sections of the choreography to suit my needs.




The Juggernaut. A beefy berserker with a unique mask design. Was used for Fulshir in Shackled Power and is F2U.




A unique female assassin animation for both swords and custom bomb throwing. Was used for Kassandra in Shackled Power.
Custom Animations





The Savage Lord, a promoted class for the lord of Shackled Power that utilized axes and bombs.

A massive animation utilized by Queen Birgitta, the main antagonist of Shackled Power.




Spooky magical animations utilized by Nestrix from Shackled Power.




Battle animations utilized by Queen Birgitta's personal bodyguards, Hama and Girulian.

The harpy. This animation is F2U.




The Ophanim, with triple the wings of the above. This animation is F2U.
I have been looking to expand my horizons and train myself in more kinds of animations. Thus, I am opening up commission requests for FE GBA adjacent animations for whatever uses needed. My rates are somewhat flexible, but there will always be variance based on the complexity.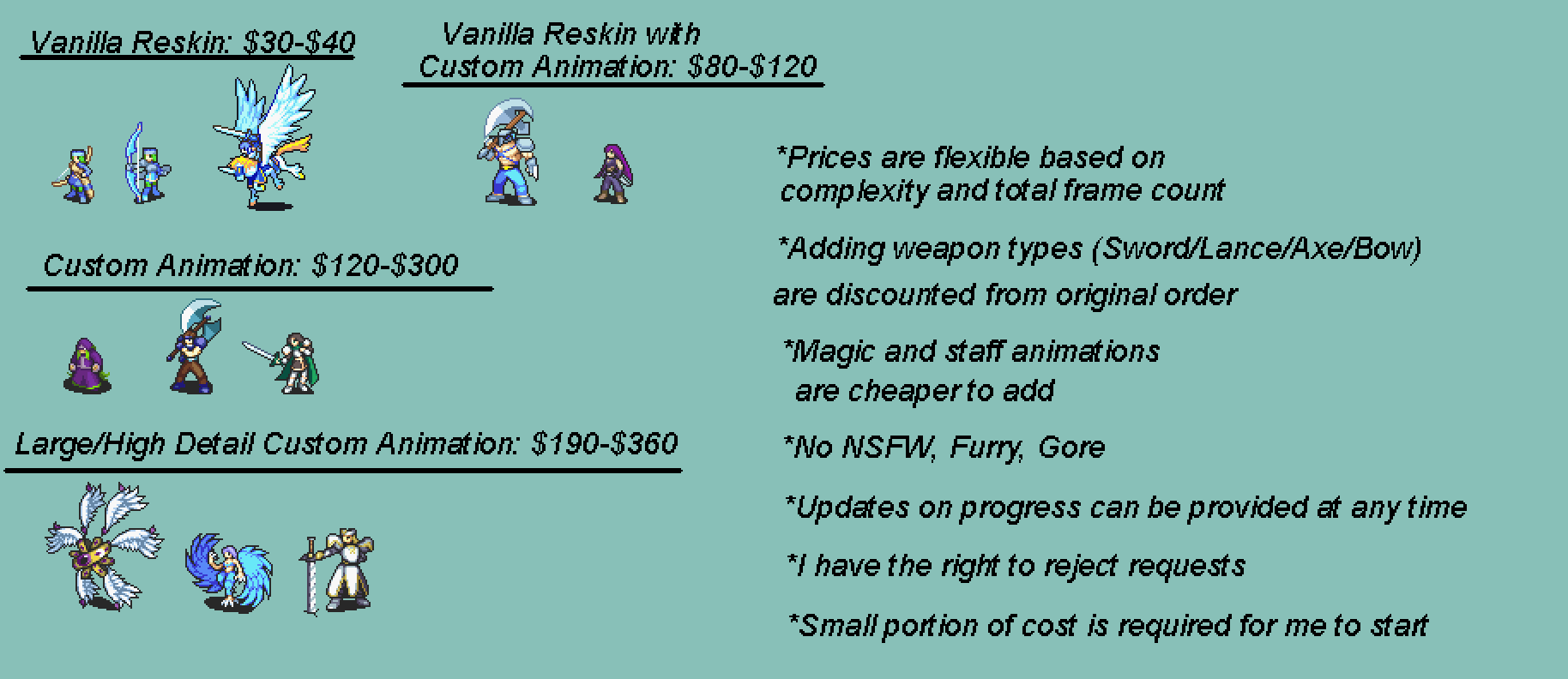 If you want to make a deal, contact me on Discord at @sphealnuke. I take payment through PayPal. If you have any questions, I will be happy to answer them there.
I'll likely post more of my work here as I make it, so stay tuned.