Thought I'd make a little intro topic to kick things off, and share my FE story with all of you, because it's hilarious.
I'm Agro, from Melbourne, Australia. I emulated FE6 after I played Smash Bros Melee and have been obsessed with the series ever since.
My first foray into the FE community was FEABL, a forum where you could create your own character and pit it against other people's characters. Since all battles were member-moderated, I made stats up and made sure I won most of the time. My level ups were all >4 stat level-ups. For whatever godforsaken reason I thought it would be funny to tell everyone that I was the shared account of a brother and sister. Perhaps it was because of the indubitably more hospitable treatment I received on other MMORPGs posing as a girl. Or perhaps it was because I was entertained by the deception. It was fun, until someone sent me naked webcam selfies over MSN…

This is apparently what happens when a closeted 12-year-old tries to create characters. Oh, the cringe-worthiness of it all…
I then moved on to FESS after a couple of years at FEABL and swimming back and forth between some smaller forums (including one where I first met The Blind Archer!) and found a new home there. I remember being inspired by some mock screenshots VincentASM had created on his website Angel Sword (later to become Serenes Forest) to create my own FE game but at the time it was simply not possible. At that point FE hacking was only just starting to emerge from obscurity and I had made some attempts at it, but none were fruitful. @Arch's event tutorial was unfinished and the Event Assembler hadn't even been publicly released yet.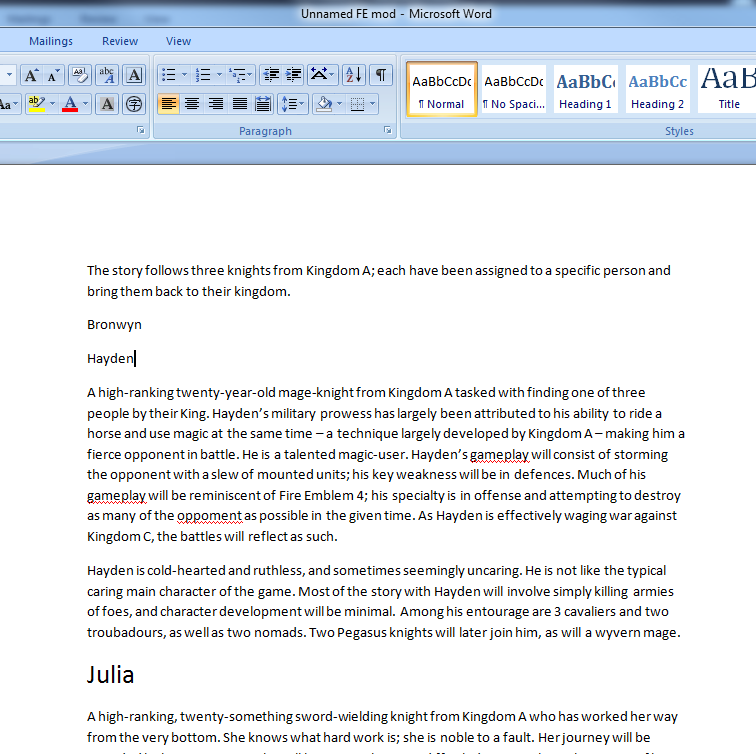 Notes from a long-gone spec script. I was obsessed with subverting the typical FE-hero trope, but then again, who wasn't?
FESS died and I moved to Serenes Forest. After spending some time there I took a good year off the fandom for school and came back to find that the FE12 translation project needed a translator. I signed up before my exams had finished. On the night of my last exam - incidentally, my Japanese exam - many festivities and drinks were had with my Japanese-speaking classmates and with a hangover and 3 hours of sleep I went home and began to work on translating the FE12 script.
"tremendous attack" doesn't necessarily mean one single attack, but more like an offense/an offensive.
"So it was just me" - Katarina actually says something like "so I was soaring/flying high alone" - I assume she means the metaphorically, like as in some sort of flight of fancy. Regardless, it's a pretty extravagant sentence so feel free to play with it a bit.
"But, the increasing of friends makes me happy." - this is almost begging to be "the more the merrier"
"but I haven't been able to get any [romance]" - this is literal translation of what he says, you can assume he means that he hasn't had much luck with the ladies. Nothing vulgar is intended at all.
Some notes I had to give to the localising team from Prologue-6. I do look back on some of it and wonder if I could have handled it better, but that's what you get when you have to rely on jisho.org for half your translations.
My work eventually led me to become quite close with a few SF members, most notably Blazer, who was also putting the last touches on the Last Promise at the time. At this point I'd re-entered the SF community and once again found myself drawn to the idea of creating my own FE game. The work for FE12 had begun to dry up as we prepared for release, and I'd started my first year of uni. I was attending at most 8 hours of class a week as most of my subjects were things I'd studied before, and had an abundance of free time. It was at this point that I decided to give hacking another go, under the heavy guidance of Blazer.
I'd just finished reading the Song of Ice and Fire series and one of the in-universe tales intrigued me greatly. I was fascinated by how much George R.R. Martin allowed his character's personal lives to influence their political decisions and wanted to create a similar story. In the past I'd dabbled with a few plotlines but none had stories that I could stretch out for more than a few chapters. I knew I wanted a strong, horse-riding woman named Bronwyn (preserved from my previous attempts at hacking) to be at the centre of the story and everything else I chopped and changed until I had something that worked. At the time music hacking was most certainly a weak point in FE hacking and I had figured I could do a better job than most people. Having just finished playing around with FE12, I figured that the best thing to do would be to use FE12 music. I got to work.
Three years later I'm still hard at work. Life gets in the way more often than I'd like it to, but that's just how the cookie crumbles. Eternal Bond has gone through a number of drafts (including a major shift in tone) as I've struggled to figure out what works and what doesn't.
At some point last year I decided to create a Skype chat dedicated to ROM hackers as I wasn't getting the feedback that I needed to from the previous one, Team OVERTROLL, which had meanwhile lost its way in a flurry of robot anime discussions. @Arch and @CT075 were a few of the first members. Not long after, the very forum in which you currently stand was created.
And that's how I got here.