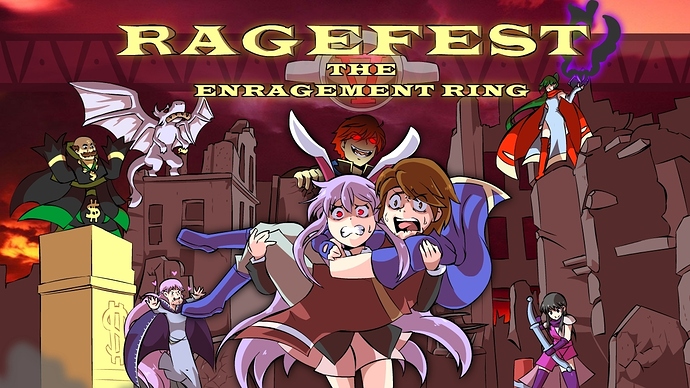 Art by Avraxas
Read this for all the information you need to know
OR you can watch the official video announcement!
Just a friendly reminder from your neighborhood Joe.
Ragefest V's deadline is less than a month away from now!
An important message and a sigh of relief for some
Is there an official sign-up anywhere, or do we just submit a submission by the deadline date?
A small update to slightly de-incentivize submitting to Ragefest Echoes instead of Ragefest V. Echoes is supposed to be a side event, not the main event.
Here is the list of Ragefest V submissions I currently have. If you send me your submission and it is not listed here, notify me. If you've been updating your submission a lot, make sure to check in with me on either the 10th or the 17th. I don't wanna end up playing an outdated version of your submission and misrepresenting your work.
Important announcement time again!
https://www.youtube.com/watch?v=hewG3OXX6I4
Ragefest V submissions are due 11:59 PM EST, TONIGHT!!!
If you submit after that deadline, it will be entered in Ragefest Echoes, so bear that in mind!
Well, I forgot to post the first submission's videos, so uh… I'll just link the playlist