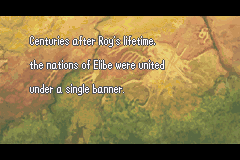 So I just got done playing through Fire Emblem 6 The Binding Blade. I got the "bad" ending since Zeiss got killed. I read this and thought: What if this is a possible sequel to FE6?.
I remember too that it says that Roy's descendant arose to fight a new evil. So my headcanon for the bad ending is that after years of peace Idunn comes out from hiding. Then Roy's descendant follows in his ancestor's footsteps and seal this new threat. Somehow this descendant manages to bring all of Elibe into one nation.
In conclusion, I personally think this is a cool concept in general and I have yet to see anyone else talk about it. Hey for all we know Roy's descendant might have some decent stats. So what are your opinions on this Elibean Nation?