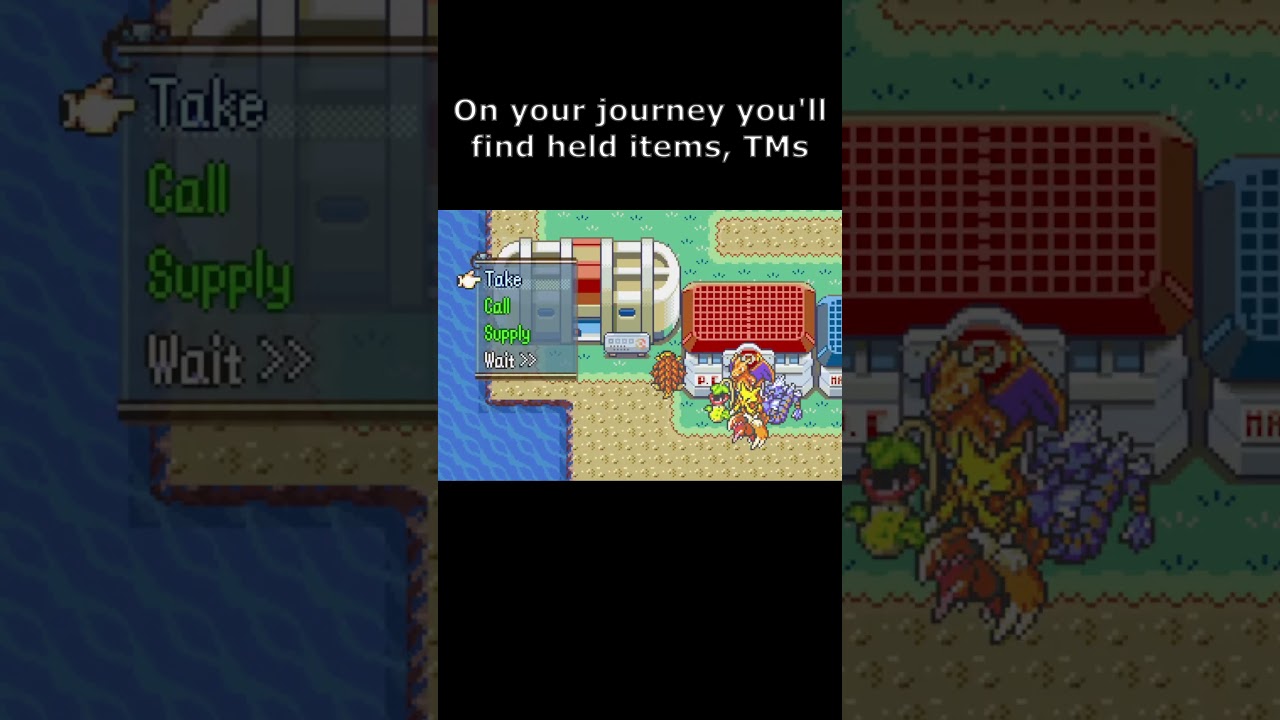 Pokemblem is a complete hack; you can defeat the Elite Four and become the champion.
Feedback and suggestions are always appreciated. Join the discord!
Patch to FE8U How to patch a rom.
Last updated: Oct 9th, 2023
About
Details

Pokemon gen1 but fire emblem combat.

Re-live your journey through Kanto in this reimagining of Pokémon. Battle with your whole party at once, and devise strategies to take down the toughest foes. Catch and evolve Pokémon as you train up your favorites. Enjoy balanced gameplay where grinding has little effect and swapping out team members may be the key if you're struggling. You play your way in this fun, fast-paced game.

RPG Walking & Grid based battles


Equippable accessories


Area of Effect attacks


Gen 1 inspired effects


Fun items


Randomizer


All difficulties are playtested.


TMs


Ingame learnset menu (learnsets are the same pre-evolved and evolved)


CGs


Nearly every pokemon is viable to use


Rival is a jerk


Tutorial


Pokedex


…and much more to discover!

Features:

Summary

Level-up moves
TMs, Skill Scrolls
Equippable Accessories
Trainer Battles
Supereffective/resisted attacks
DangerZone
Classes = pokémon
Tons of custom code
Catch new ones
Many quality of life features
Combat is challenging but fair
Pokémon revived at pokécenters
Dialogue/story is sparse and usually optional
Freely explore Kanto with RPG walking
Battles in grid mode
Fast-travel via route signs
Exp is capped to the levels of gym leaders
Credits
Thank you all!

Pokemblem by Vesly

Development

Vesly

Systems

DangerRadius - Huichelaar
Capture - Tequila
EffectivenessRework - Tequila
SkillSystems - circles, Sme, & others
Trap Rework - Sme
Gaiden Magic - Snek, Gamma
Equippable Accessories - Kirb
FreeMovement - Mokha & Sme
Map/chapter transitions - Huichelaar

Special Thanks

7743, without whom this project would not be possible. He's added many features and patches to FEBuilder that I greedily requested, and has always offered support when I was having trouble.

Assets

Most item icons - Lukirioh

Title screen - redppr

Pokemart Clerk, Beta Trainer Sprites, Choice Band, Muscle Band - Zaim

Tileset water animations, Evolution stones, Jelly Donut, Drying Pan - N426

Potions, Stat boosters, & various skill icons - Jester

PMD Minimugs - Akim2007

Pewter Tileset Palette improvements - Zoramine

Stat Screen by SD9K with alternate palettes by Aqua

ChilanBerry, Rurouni, ScubaLuigi - help with items & learnsets

Physical / special icons, wise glasses - Epicer

Blackbelt - Gabriel Knight

Quick Claw - HusbandoEmblem

Difficulty Selection - Halbreadier

Sources:

Mega Sprites from: https://www.pokecommunity.com/showthread.php?t=314422

Misc.
AI4 as group ai - PhantomSentine
Examine item fix - Sme
Fates exp - Crazycolorz5
EventParameters - Snek
Full Heal item - MintX
Hide portraits during promotion - Tequila
CheckInDanger - Stanh

Playtesters

Akim
Ariadna
Aqua
BayouPup
bpat
bowser for lesbians
ChilanBerry
Contro
darknight97
Elzaim
FabulaFares
FickleRick
FlamingZelda
Fpkfor
Gaston
LackadasicalDerp
Leche
Luis
Kyle
Miki Brock
Missiri
mitltl
MournfulRelic
Paulean
Pf987
Piku
Rurouni
Scub
Tbone
TheIcyCharmander
TheGreatUncleYga
YourHiro

Additional Thanks to:

Sme, Tequila, Pikmin1211, Contro, Eebit

Patches

16 Tracks/12 Sounds Fix (credit Agro/Brendor)
256 Col Title Screen - Leonarth
Anti-Huffman - Hextator
CSA - Hextator, Circles
CasualMode - circles
CG Fade Fix - 7743
Ch titles as text - circles
CompareTactName - 7743
Convert MemorySlot to String - 7743
Count Units in Range - 7743
DisablePrepStore - 7743
DisableStatusScreenForClasses - 7743
Disable Enemy Control Glitch - Brendon, 7743
Display 10-Divided CG - 7743
Drumfix - circles
remove control enemy - Brendor
Split menu - Stan, circles
Escape - ngmansion, aera
Fix LZ77 - Tequila
GetPressedKeys - Shuusuke, 7743
GetDifficulty - 7743
GetUnitDistance - Snakey1
RescueEvent - circles
EMS - Stan
Ai & LeaderAI fix - Stan
Battle Stats - Tequila
UNCM - Tequila
AIDangerMapFix - Gamma
HPBars - Circles, Tequila
ImprovedSoundMixer - ipatix
MagicSwordRework - Sme
MMB - Zane
NarrowFont - Scraiza
RNGRandomizer - TR143
PreventTradingCertainItems - Circles, Pawkkie, Vesly
Reserve Tact TextID - 7743
SendAll - 7743
ShowEmoticon - 7743, Kenpuku
Sound_NIMAP - circles, Alusq
Submenu - 7743
UnitActionRework - Stanh
L-Button Cycling - Aura Wolf

Skill Systems Contributors:

Skill contributors

Tequila
Rossendale
StanH
Leonarth
2WB
Teraspark
Darrman
SD9k
Kao
blademaster
Snakey1
Zeta
Kirb
Sme
Ganzap
7743: various bugfixes
RobertFPY, Pikmin1211, and Snakey1: Str/Mag Split Finalization

Skill System Icons

Monkeybard, Black Mage
Blaze: Stances
vlak: Drives
Pikmin1211: Miscellaneous
2WB: Miscellaneous
Zaim: Indoor March
Reds: Quick Riposte
Pokemblem project assets are free to use (with credit).