Woah, thanks! I would have never figured that out on my own. My Pokemon just got a lot more energetic!
This next event took me way longer than it should've. It randomizes the coords of units in range. It even checks to make sure there isn't a unit already there.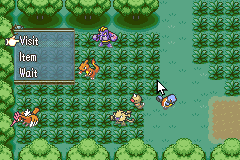 I set it to repeat a few times as an example. This should happen off-screen so you don't see them chilling in the corner momentarily.
"Trainers" have set positions, but I'll randomize mons in the grass, I think. For non-square grass I can use the Valni routine instead.