Trailer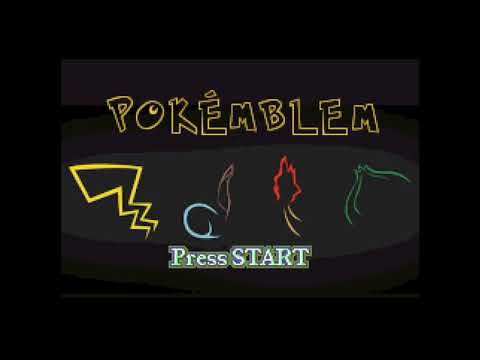 Demo is 66 chapters / areas to explore.
Patch to FE8U How to patch a rom. Online patcher.
Last updated: May 17th, 2022
Releases -
v0.70: May 17th, 2022
v0.50: Apr 2nd, 2022
v0.30: Oct 1st, 2021
v0.20: Jan 18, 2021
v0.10: Nov. 14, 2020
v0.05: Sept. 12, 2020
Tested on real hardware & mGBA.
Playtesters wanted! Join the discord above to playtest or follow development.
About
Pokemon gen1 but fire emblem combat. It currently has 48 chapters, which is content up to Fuschia City.
Re-live your journey through Kanto in this reimagining of Pokémon. Battle with your whole party at once, and devise strategies to take down the toughest foes. Catch and evolve Pokémon as you train up your favorites. Enjoy balanced gameplay where grinding has little effect and swapping out team members may be the key if you're struggling. You play your way in this fun, fast-paced game.
Features:
Level-up moves
TMs, Skill Scrolls
Equippable Accessories
Trainer Battles
Supereffective/resisted attacks
DangerZone
Classes = pokémon
Tons of custom code
Catch new ones
Many quality of life features
Combat is challenging but fair
Pokémon revived at pokécenters
Dialogue/story is sparse and usually optional
Freely explore Kanto
Fast-travel via route signs
Grinding possible but exp formula prevents becoming overlevelled
Credits
Thank you all!

Development

Vesly
Scub - items & movesets

Systems

DangerRadius - Huichelaar
Capture - Tequila
EffectivenessRework - Tequila
SkillSystems - circles, Sme, & others
Trap Rework - Sme
Combat Arts - Sme
FreeMovement - Sme (eventually to be inserted)
ModularPreBattleSkills - Myself
PromoteOnLvl - Myself
Map/chapter transitions - Huichelaar
I've edited all of these systems in some (often minor) way to better fit Pokemblem.

Special Thanks

7743, without whom this project would not be possible. He's added many features and patches to FEBuilder that I greedily requested, and has always offered support when I was having trouble.

Assets

FEGBA formatting (including tracing or redrawing) - Vesly

Most item icons - Lukirioh

Trainer sprites - Zaim

Pokemart Clerk - Zaim

Tileset water animations - N426

Evolution stones - N426

Potion Icons & Stat boosters - Jester

Tech Skill Icons - Jester

Pewter Tileset Palette improvements - Zoramine

Status Screen BG - SD9k

Sources:

Maps originally ripped by: Bob799, Sapphire_Dragon, fabnt, Axmarrone, Hoeloe, GaryXCJK, Wess, LF

FR/LG Trainers originally ripped by: Sapphire_Dragon

Misc.

AI4 as group ai - PhantomSentine
Examine item fix - Sme
Fates exp - Crazycolorz5
Levelup rework - Zeta
Dynamic equip - Gamma
GetDeployedUnitX - Snek
Full Heal item - MintX
Debuffs restore quicker, lvls above 31 saved, additional trap types, effectiveness calcs - Myself

Playtesters

Ariadna
MournfulRelic
bpat
YourHiro
Elzaim
Scub
Leche
MikiBrock
Tbone

Patches

256 Col Title Screen - Leonarth
All instrument - Blazer
254 minimugs - Gryz
CasualMode - circles
Ch titles as text - circles
Drumfix - circles
remove control enemy - Brendor
Split menu - Stan, circles
Escape - ngmansion, aera
GetPressedKeys - Shuusuke
GetUnitDistance - Snek
RescueEvent - circles
EMS - Stan
Ai & LeaderAI fix - Stan
Battle Stats - Tequila
UNCM - Tequila
AIDangerMapFix - Gamma
HPBars - Circles
ImprovedSoundMixer - ipatix
NicerFog - Leonarth
MagicSwordRework - Sme
MMB - Zane
NarrowFont - Scraiza
RNGRandomizer - TR143
Sound_NIMAP - circles, Alusq
about a hundred more - 7743
Pokemblem project assets are free to use (with credit).