I have been trying to find the full sheet for ages lul
Spencer looks real cool… shame that the project died too.
Anyway no Pik, you can't. But if you ask nicely then it is a different story.
I know of at least three that he can steal.
may i please steal these
realtalk though if you've got nothing better to do dm me and i'd be happy to include you in a proyect
Dead thread, time to make it live. Here is Sazanka from Draglia Lost. And before Pik comes in and say anything, no she isn't a loli.


My disappointment is immeasurable
Uhhhhh I'm pretty sure plenty of people make pixel stuff.
(i hope i'm the first to this joke)
You are very far from first with that.
Alain now comes with 100% more expensive armor and 10% hotter face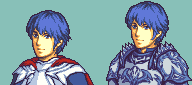 Cassandra now comes with 10 pixels more armor and a sick engraving


I'm on the spriting train, is this what it feels like being in your top form? Producing a new sprite every 6 days? (Granted, they are mostly just polishing, extension but still) Either way here is Kierra with 10 more pixels and a proper shirt. Her hood will come soon
, her tailor is taking sick leave.


ah shit the mini is not updated
Well, the last post was actually with a lot of unfinished stuff so I will just repost it properly + her brand new tailor-made hood that is totally not just some old cloak being extended.


Bonus secret pic of the princess changing her clothes