So, bit of a rant, but I personally have been worried with how hard I've tried to make my hack look as visually unique and I think many aspects have suffered as a result, namely in regards to mugshot consistency and especially my story, which I've still been scratching my head about how to make it better.
I feel there's a magical feeling when you look at assorted screenshots of various romhacks. Then, when I look at my own, something's not right… It's like… It's kinda like I'm trying too hard, y'know?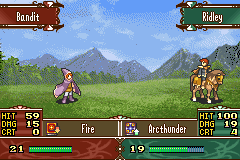 Like, I think about all the things I threw in, like short font on everything, Sacred War battle screen with a darker palette, and FE12 backgrounds, and while normally I'd see those as looking really cool in another hack, something's not right when I look at it. Is it just me?