Best character in Sun God's Wrath. He was taken from us far too soon.
The scripted fight was rigged.
Discuss.
Let us enjoy a moment of silence for Mikey.
Fuck you, Beige.
What sort of name is Beige anyway? Seriously, Beige? That's literally just a color. And not just any color, but one of the most boring colors you could choose. At least Mikey is an actual name, and Nereid has some mythological background!
Beige looks like he's in the middle of having a stroke. And still hits two ~50% hits with a Swordreaver (LOL, those stats must be assssss). And then he gets yeeted like two seconds later.
The drama is just too intense, man.
Best waifu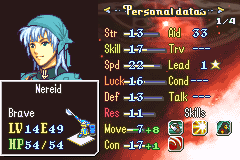 I heard they played the Guile theme at his funeral
They did, they even slowed it down out of respect!
I'm going to make a new hack starring Mikey as the main character. His personal weapon is a Steel Blade, because of course it is.
…But after I finish getting my current hack ready for FEE3. Priorities are important!
Priorities are important, but not as important as Mikey.
I'm pretty close to done with Chapter 7, actually. All I need to do is finish writing the start and end events, make the secret thing with the Cyclops, and maybe splice some portraits for the new recruitable characters.
How does she have +8 mov…?
Speaking of rigged, I think Beige actually had a 0% crit rate, at least before I may have fixed that? Even for memetic reasons, it's just funny to me that a character who speaks maybe three times in the whole game is getting so much attention lol
Mikey was #1 in the Top 10 Anime Deaths video.
With those
spent, she learned "kicking to the groin" to kick Beige.
Mikey was the Hero we needed, but not the one we deserve. Our fearless, flat-topped protector died so that others might live on to fight the evils of 5 manaketes, flexing light magic brigands, and the unending onslaught of Bishop reinforcements. Rest In Peace, Mikey.
You are gone, but never forgotten.
Top 10 Anime Betrayals too.