Hello there!
You might recognize me from a few posts from some topics, but anyways, I was pretty nervous about posting my project here for the first time as this is technically my first hack and I felt like it needed some exposure somewhat so here I am typing this post. This is a hack of FE8 made with FEBuilder (props to 7743 for the tool
)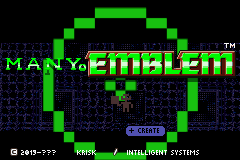 So what is this about?
Glad you asked, this hack's more of a tribute to an indie sandbox game I used to play called Manyland. Users that I've met along the way will be featured in this game in a hilarious awkward story for the sake of it. There might be in-jokes or references you might not care for
or understand, and that's totally fine.
Ok, but what about the actual story itself?
So, once upon a time there were dozens of internet clans fighting in each other in a giant land mass called Manyland. The whole landscape is governed by a man by the name of Philipp Lenssen alongside his council of 12 admin. They didn't really care about all the clan nonsense running amok the land and carried on with their usual tasks of monitoring ML. However, there were 2 clans in particular that were mainstream focused, Digital Bandits (they're not actual brigands anyways) and Warrior Flame. Their relations were pretty tense at the time, and they were about to be more so, after fellow lord of D.B Lord Alex did something indescribable that angered W.F's king, Zenera Flame. What happens next will be explained in-game, but it's not like I intended to write a serious story
What this hack features (so far)
SkillsSystem 2019 (7/8)

MMB (Modular Minimug Box)

Various animations from the Animation Repository

Custom SFX for battle animations to replace the fuzzy ugly ones (in my opinion)

References to shows, movies, and ML itself

(Correct me if I'm wrong on this) About 16 playable characters in this version

Some new weapons (Cannonball, etc.)

3 chapters in total (27 planned), (Note: 3rd chapter does not have an ending event yet and some talk and village events need to be implemented) There is a 4th chapter being developed, but it's unfinished.

Custom music from an array of sources

Cringe Comedy

New text fonts for both menu and speech
I'm looking forward to improve, so constructive feedback is something I welcome.
Screenies








Download here
Things to note

Since this hack is a very WIP, portraits are obviously not completed for every character yet so expect placeholder mugs.

I could use some help in the spriting department (portraits especially) so in case you're interested with helping this project you can DM me on Discord (Kris K#9059). I plan on creating a project server as well so stay tuned for that.

As I mentioned earlier, this is my first hack overall so it may not be completely perfect.

I thank all creators of the various community resources that were in a variety of repositories especially the map and animation department.

I haven't necessarily removed all the battle floors yet or changed that many battle backgrounds, but I'm on it.

Unit palettes are not finished
Credits

Please report any bugs or glitches to me on Discord or on here.


Enjoy.