In the past, the way to hacking rom is usually to jump from the original ASM code through the branch & jumpToHack instructions to realize new functions.
With the progress of the decomp work, it is possible to directly hack the source code. The following are my latest attempt:
---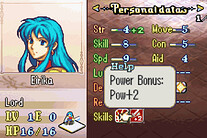 Features implemented for now:
Skill-Tester
Modular Status Getter
Pre-Battle Calc
Stat-Screen with growth-based status text palette
Skills icon & rText display
Based on source code, it is possible to easily implement new features which may be complex in the past, for example, adding new members directly to the unit struct, such as skills or magic power.
It needs to be admitted that the current revision work is still relatively rough. For example, there are no separate folders for the different functions, and there is no way to automatically create an enum for texts msg index, and lack of .config, etc.
Thanks to everyone who contributed to the decomp project.