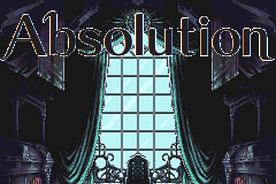 — Dropbox Download Link —
The current build, v0.1.9.1, starts at the prologue (Indictment) and ends after chapter 9 (Acquittal).
Salutations, everyone! I am happy to introduce to you all to a new FE project: Absolution! I've been working on the ideas and concepts behind this for a long time now, and it feels so good to finally have a playable build out there.
This game runs in the Lex Talionis engine, and as such is easy to download and play! All you have to do is download the game from the link above, unzip it, and double click the "double_click_me_to_play" batch file!
Unfamiliar with Lex Talionis and wary about playing because of that? Here's a quick little guide:
Lex Talionis Basics

Lex Talionis is an engine written entirely in Python, designed for Fire Emblem, and created by rainlash. The use of Python as base allows for all sorts of features, including the Base menu from the Tellius games and area-of-effect weapons. Let's walk through what you'll see when you first load up Absolution.

1.) The first thing you will see is the title screen (it looks like the image at the top of this post). Lex Talionis "maps" a key on your keyboard to a button on the GBA. You can change these mappings at any time! The default setup is as follows:
[A] -> x
[B] -> z
[ R ] -> c
[ L ] -> a
D-pad -> arrow keys
[ START ] -> s
To change this, you can navigate to "Extras" on the main menu and into "Options." Next, move over from "Config" to "Controls." You can then use whatever key is mapped to [A] to select a mapping and from there press whatever new key you'd like to map it to. Simple! You can do this at any time wherever the options menu is accessible.

2.) Now that your controls are mapped to your liking, select "New Game" on the main menu to begin Absolution! You'll be asked to choose a difficulty. As of version 0.1.9.0, Normal, Hard are the same. Lunatic has boosted player and enemy growths, but has not been playtested. Choose Normal or Hard for the intended experience. You'll then be asked to choose between casual and classic mode. These work just as in regular FE, EXCEPT that in casual mode, fallen units must sit out for one chapter before they can fight for you again. Finally, choose your style of level ups. Refer to the descriptions provided for details (or ask me if you need more info).

3.) Now that you have a save file, new options will appear on the main menu when you save and quit. "Continue" will load the last battle save. "Load Game" will load the last proper save you made (ie. saves at the start of a chapter, prep screen, etc.). "Restart Level" will load the save before last (so if you save at the base, and then at the prep screen, you can use Load Game to start from the prep screen and Restart Level to start from the base).

And that's the basics of playing any Lex Talionis game! Hopefully that lowered any barriers to entry you may have had before playing Absolution.
Transferring Saves

If you're in the middle of a playthrough when the game updates, don't despair! Assuming saves are compatible between updates, transferring saves in Lex Talionis is a breeze!

1.) Download the latest build from the link in either the original post or the update post. Then follow the installation instructions as usual. Keep the new version completely separate from the old version.

2.) Navigate to the "absolution_data" folder in the old build (it should just above the "double_click_me_to_play"" file). Inside it you will see number of folder labeled data, audio, etc. The important one is the "Saves" folder, which as you might guess holds all your save data. Make a copy of your old Saves folder.

3.) Navigate to the "absolution_data" folder in the current build. Inside you'll see the same folders as you did in the previous build. Simply delete the Saves folder and replace it with the old one you copied.

And presto, you're good to go! You should now have access to your saves in the newest version of Absolution.

Discalimer : I always recommend keeping a backup of the old version for a little while just in case I make a mistake and saves aren't actually compatible when I say they are. I don't think that will ever happen, but it's a good idea regardless.
Absolution takes place in the world of Aletheia, a world split in half by conflicts too old to remember. Today, the two sides of Aletheia reunite - in less than harmonious circumstances. Help Valentina Bolivar free her people from oppression and overcome her personal demons through a story that spans two continents and 7 countries. The road ahead is an arduous one, laden with inconvenient and painful truths. But still, you must fight onward towards absolution, and right the wrongs of millennium past!
This is my first foray into game development, so your feedback is very much appreciated! I am heavily invested in this game being the best it can possibly be! Thank you! (I also love seeing how people's units turned out, so if you want to share that, please do!)
Implemented/In Progress Features:
An original story/scenario with original characters

Original music written specifically for the game. Check out the soundtrack here!

A simple yet robust class system

2 - 3 range archers, 1 - 2 range crossbows, and a combination of Radiant Dawn-style and Fates-style knives

A variety of personal skills and combat arts (But nothing too crazy, I promise!)

A support system where every character gets at least 4 support options. Even the most side character of side characters get equal love!
Yet-to-be-implemented Features:
Unique enemy pallets based on faction.

Lore entries in the game's library

Multiple difficulties. Normal is the intended default difficulty, but Hard is currently identical to Normal. Do not play on Lunatic if you want the intended experience.
Screenshots
Graphics Credits

Custom Item Sprites:

rainlash
FE7x Team
LordGlenn
LuckyStart
Zane
Valak
Zelix
Ereshgikal

Custom Class Cards

rainlash
Dei
MageKnight404
Team SALVAGED
Melia
MeatOfJustice
FPzero
Shtick
Rasdel
DerTheVaporeon
Orihara_Saki
Kenpuhu

Custom Map Sprites

rainlash
dondon151
Agro
Team SALVAGED
Melia
MeatOfJustice
FPzero
Shtick
Rasdel
DerTheVaporeon
Orihara_Saki
Kenpuhu
HyperGammeSpaces
Flasuban
Dellhonne
Snewping
Unknown
Ayr
Pikmin1211
Nuramon
N426

Custom WEXP Icons

Custom Affinity Icons

Custom Combat Animations

rainlash
AstraLunaSol
Dei
Fe7x Team
Keeks
Klokinator
MageKnight404
Temp
Nuramon
flasuban
Team SALVAGED
DerTheVaporeon
Leo_link
Iscaneus
Mikey Seregon
Khrene Kleaver
Khardos
Alfred Kamon
Spud
BlueDruid
PrincessKilvas
Maiser6
Ayr
Raspberry
TBA
shadowofchaos
Jeorge_Reds
MrNight
Black Mage
Marlon0024
Red Bean
Teraspark
Aruka
Kenpuhu
Seal
Mercenary Lord
Vilkalizer
Jj09
Alusq
GabrielKnight
Skitty
temp
Kao
Aurora
Orihara_Saki

Custom Spell Animations

Custom Tilesets and Tileset Palettes