garo is a better unit, smh
this time is a soldier lady
original --> new


original is not mine (original has old design, new has new design from the owner)
did this between finals how shameful
I retract what I said if Garo's better dead kek
he's hot now, so I'll keep him
original --> new


3 most recent mugs are for Scourge of Proxima hack, might as well give it a check fellas~
lotsa update-oooooo
it's me being lazy updating this thread kappa


Fire Emblem made these two possible to be siblings, so…



Original by Pandan -> my edit
pink big boi, fluff for hug
Those mugs up above are for Vision Quest hack, better check it out~

<-- for Legends of Avenir, check it out!
purple haired waifu is here
Also, I'm opening up commissions for mugs. You can ask me here by messaging me (pls don't ask on the thread), or you can DM me on Discord. Big thanks!
kyot

let's compare it with my first mug I made 6 years ago


… bruh
Wow, what a hottie~
back with me Levin boyo



the left is for the splice competition, and the right is for Scourge of Proxima. new character ooooo
I might make the left one free to use, idk, after I'll make the frames, ofc lel
I made lots, I feel so proud (it's just two smh)


<-- Legends of Avenir
well hello there

<-- Vision Quest
Dan said this is nomad Aragorn. lel
big thanks to Zanryu for lots of fixes~
aaanddddd

finally insertable! (maybe)
also this is free to use.
many updates cuz I'm lazy to upload and depresso times


<-- Faith and Blood
kyoot mage






and five of these are for Vision Quest!
old druid, young bad protagonist, young gud knight, Esfir's replacement, and bad but sexy antagonist
oh also updated Larisa!

Old guy looking nice oooh
You take that back!
Aside from that, good work Levin! I especially like what you did with Mary and young Storch.
I love the Bastian vibes from the old guy (Cassius)
When I look back on my performing days, I know that any hardship in my road shall be like ashes at the fire's end! Yet till Crimea sees its freedom come, I shall pass myself as the simple fool!
teehee I'm back with lotsa dumps



Efil from Legends of Avenir!
I should get back to this another day, to think of it. Jacket looks off with that colour…

Someone for something not released yet(?) fuken @Runa release your hacc already

Richard from Fart and Bloop Faith and Blood!


Yanndahl, Vollster, and Larissa for Tale of Ternon!
MVP I do say your hat is cool but it gave me headache too much


Anisa (touch up) and Kosuke from Vision Quest!
then I share neat gif



to

Qillaq and Hypatia from Fire Emblem Hiraeth: Legacies!
props to Zanryu and Tristan_Hollow for helping with Hypatia cleanup (she looks cute with the freckles owo)
also hab some good gif to show how bad I were




Raptor and Boris from The Nameless Heroes! they both look hot ngl
and finally a full-custom mug ohboi

to

created : June 25th, 2019 | done : Oct 4th, 2019
left was the first finished state, right is Teapot's edits(many thankies aaaa)
props to everyone else too for helping with this too >w< (giving motivation also helped a lot lel)
Yanndahl
Your edits look a lot better compared to my original splice. I still say the player units deserved help more Also, can I use that version of the mug in other uses for my self-insert? Crediting you, of course.
The other mugs are also amazing! We have edgelord Swordmaster, some cavalier dude, Richard, Volster, Larissa, a Neimi recolor…
ofc dear it's your mug too no problem~
These are all really clean and nice!
is it okay to fall in love with your own creation?
because she's hella cute, isn't that right @Runa


also meme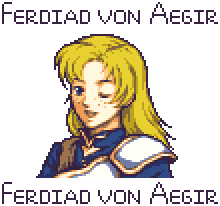 levin i do not support this romance