Did I mention I was new…because I am. I'm Husbando, anywho. Does anyone have the blinking portrait animation for Juno from FE6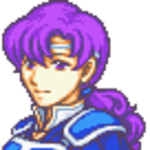 I'm using her face for a character but I'm using FE8 as a base, so they're like the one character that doesn't blink. I would just make one up myself, but if one already exists then I wouldn't have to go through all the trouble. Oh, and thanks in advance for any help.
This is the character btw, his name is Stellan. He's going to be important to the plot of the rom hack I'm making.