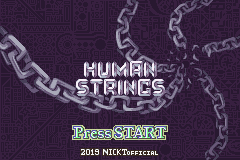 Lands largely unknown and reeling from a mostly forgotten and misunderstood cataclysmic event which shook humanity so deeply and twisted the world into an era jarred. Trying times lay wake to desperation as people slowly and painstakingly try to claw back into a world they once felt safe within.
Fallout broke shards into further shards as man and woman fight tooth and nail, bloodied knifes half set in backs as they all try to pull threads that bound them to each other and in this game of madness they're all puppets to their own depravity.
The region of Baltia, borderline circling a band of mountain ranges that house few and far apart towns, with the core cities home to the prestigious wealthy and high-ranked military. A nation that offers few paths of life to the men and women who reside the outward and broken down ghost towns, the people live for armed service and for supplementing of this armed service.
Secluded and detached from the world at large, the capitals of Baltia run high and dry on everything and the left behind hungry and thirsty prey on the outer areas, taxing food stores and demanding supplies in excess to sustain their indulgent lifestyles.
Though it's challenged one day when an important woman is ambushed mid travel by men of the plains, assassinated along with her protection detail. Nuance and subtlety is lost as high brass brigade for an invasion as they send forward armies on cleansing campaigns, to ensure the safety of the people.


Friss Reiner is an up and coming arms maker, living out her slow days hidden within the Drake Woods, nestled deep in the north western mountain ranges of Baltia, an isolated region of city-states along mountain slopes.
Unfortunate happenstance has her crossing paths with Jack, a sordid military man who together journey through high-rise mountains and across great plains on a mission to deliver arms to extended troops running low on resources.


Friss Reiner.



Hard-headed and stalwart, yet considerate and empathetic. She's easily frustrated and has a tempter that she buries to the best of her ability but her utopia is a quiet place in a quiet place.
Jack.


A drunken and sordid ex-soldier who's mysteries are hidden ten bottles deep beneath a broken shell of a man, forgotten to the world and left to wander about as he tries to make sense of it all.
Rahn Seymour.


A General of Baltia, carries his name with great honour and lives every waking moment for the betterment of his country and the people he serves.
Godfreyr Lohengrin.



A rebellious and cunning soldier, a snake of a man but with an undying focus and conviction.
Doran of the Kieraz.



A heavy-set, hard in his ways tribesman of the southern plain, leader of the Kieraz and self-proclaimed King of the Plains.
???


An enigmatic man or woman who keeps to the shadows, their goals and allegiances are unknown…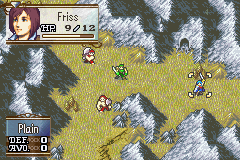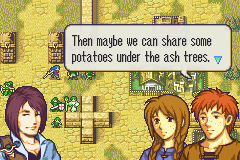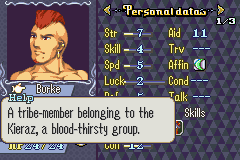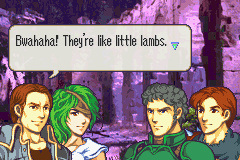 Human Strings is an attempt at a Fire Emblem ROMhack by NICKT, the latest iteration in a long line of forgotten ideas that go back just shy of a decade. With a current total of 41 planned chapters, complete original cast and an entirely brand new soundtrack, Human Strings aims to be a considerable hallmark within the Fire Emblem communities and fanbases.

I'm a really depressed guy, motivation is a fancy that seldom comes my way and when it does those futile moments are spent on either fixing the small amount of work I've done to make it perfect or being disappointed that something I want to do isn't working or is impossible to do.
Human Strings is a passion project but it's one of many that floats around in my head, in the same world it's already seeing followup project ideas starting to swirl around but it seems having ideas is more fun than actually sitting down and doing anything with them.
It's a slow burn, I'm scared that it's going to sit as a piece of junk on my computer and never comes to fruition but who knows, could even become something.