Grug's Primitve Disadventure

What is up Gamers!

So I heard y'all like Romhacks! I am MemeTzar and you may have seen me around the community a couple of times. I would like to unveil a project me and some friends have been working on!
This is Grug's Primitive Disadventure. It's a non-serious RomHack with an original story. This Romhack started as a shitpost in a text channel on Discord. Through some work we we're able to make our "dream" into a reality. Our team is called Team Stoned Stoners because weed=funny.
It's actually a ROM Hack made in FEBuilder by a bunch of Noobs in Romhacking. We're all learning together along the way. So we wish for more beginning RomHackers of all trades to come by our Discord and help out! We also have a youtube trailer made by yours truly. Thanks for tuning in!

**Disclaimer: **
1.) This hack is not meant to be ironmanned, at least for the first few chapters although if you wanna try, be my guest 2.) to ensure optimal enjoyment with this hack, please promote your units asap(edited)
July 20, 2021
Grug Moment
UPS Patch and Credits will be at the Bottom.
Hard Mode is the intended mode for Play
Report any bugs found in the Comments below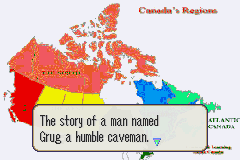 It takes in Canada. Pretty cool eh?
Screenshots






UPS Patch
Credits

Team Stone Stoners
Srek as Project Head
MemeTzar as Lead Hacker and Musician
Rye On Speed as Head Writer
Seán as Head Playtester
LunaProc as Head Spriter
CJ as Secondary Head Hacker
Lucky K, Playteser
Matty, Playtester
Xaiver (JuliaLover69), Server Elitist
God, Writer and Playtester
Oocities, Playtester
Rohan, Spriter and Playtester
Valefar, Hype Beast and Playtester
Heckless, Writer
Serif as Spriter and Playtester
bwaN as Hacker, Spriter, Mapper, and Palletter
Krisk.K, Sound Engineer and Spriter
dood as mountain man Mapper
SG, Playtester
Tomo, Playtester

7743 for making the Godsend that is FEBuilder

Assets Used from Others
*FE7 Portraits with FE8 Colors: BwdYeti
FE6 Blinking Portraits: Shin19
Touhou Chinese Teahouse Song: Pikmin 1211
Dimitri Portrait: Melia
Halberdier Anim: TBA
Cavalier and Knight Anims: Team SALVAGED
Deserter Anim: Alusq
"Join Us" FE8 Port: Tristan Hollow
Cave and Snow Tileset: Zoramine Fae/Der The Vaporeon
FE2 Alm Map Theme: Hypergammaspaces
FE6 Attack Theme: Tristan Hollow
FE4 Verdane Theme: Sme/Pandan
FE4 Defense: Mr. Green3339
Super Mario World: Bowser World Theme-Sme
Generic Skeleton Portrait: Alusq
Legion Anim: Seal
Dark Knight Anim: Pikmin 1211, Nuramon, Jj09, DertheVaporeon
Generic Knight Portrait: Lenh
Wind Spell Anim: Misaka Mikoto
Hatless Mage Anim: Gabriel Knight
God Portrait: Serif, Caizar, DertheVaporeon
Rickard Portrait: Nickt
Valkryie Anim: DertheVaporeon, Isaac, Pikmin 1211
Trickster Anim by LeoLink
-Darknight Portrait: LaurentLacroix
-Xavier Portrait: Anon
-Julia Portrait: Melia
-Yozakura Portrait: Melia
-Flexbot Portrait: Melia
-Kaga Portrait: Zoisite
-Jamke Portrait: Nobody
-Gandolf Portrait: Sterling Glovner
-Gonzales Portrait - BorsDeep
-Lilina Portrait - Levin64
-Ferdinand Portrait - MeatOfJustice
-Reinhardt Portrait: HypergammaSpaces

Tellius Warrior Rework: Leo_Link, Nuramon, Spud
Fully-Clothed Brigand: Flasuban
Bow General: TBA
Female Mercenary: Team SALVAGED
Axe Wyvern: TheBlindArcher
Mage Knight Lance: Teraspark
Malig Knight: Pikmin1211, Jj09, 7743
Nino Pale Flower: RedBean
Dread Fighter: Nuramon
Dragoon: Mercenary Lord, NYZGamer, Pikmin1211, Maiser6
Tactician: Marlon0024*

Patches Used
Skill Systems by Circles Everywhere
16 tracks/sounds by Agro/Brendor
256 Background Editor by Leonarth
All Instrutment by Blazer
Continue Map into Battle Music by Hextator
Native Instrutment Map by Alusq
Modular Minimug by ZaneAvernathy
Command Hacks by Hextator

Will update as we add in more Assets
Notify me is I missed anything
Discord

https://discord.gg/4SZhzDN
We need some people that can use FEBuilder. I do all the insertion of text and eventing and it can be a little much y'know
My Youtube Channel aka. Shameless Plug
Known Bugs

Battle Platforms can be turned off by setting animations to 2