How far will you go for justice?
After a devastating surprise attack from the neighbouring theocracy of Haloseia, the Cerahni Empire has fallen. His hometown in ruins and his mother slain, Fane and his companions, Raphael and Lionel, embark on a quest to liberate their homeland from the occupying invaders and to avenge the fallen. But their destiny is forever altered when they encounter Ileana, a Haloseian exile with the power to see the future, whose only goal is the death of her father, the Grim King of Haloseia. All the while, the Haloseian inquisitor Maeve stumbles upon the grand deception at the heart of her nation, placing her at the crossroads between faith and country. As the war rages on and threatens to take everything from them all, decades of conspiracy begin to unravel, revealing hidden truths and dark histories…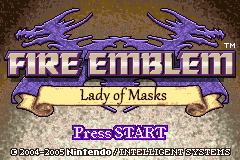 Lady of Masks is a project I started back in 2020 during that whole quarantine thing you may have heard about. Its initial release (which is still playable!) was as a romhack for FE8, but in 2022, the project was ported to the Lex Talionis engine, and shifted to a new emphasis on character individuality, powerful per-chapter abilities, and a massively expanded item system. This new game, currently in alpha, strives to be closer to the tactics side of the SRPG genre, taking inspiration from games like XCOM 2 to deliver an experience wholly unique from the vanilla games.
This project's main goals are twofold: Firstly, to create a Fire Emblem experience tailored to the rhythms I've always found most enjoyable – decisive, exciting turns, tackled using powerful offensive tools; and secondly, to use the Fire Emblem format to tell a rich, mature, and thematic story, with multiple protagonists and a focus on character-driven writing.
Content Warning

This hack utilizes somewhat harsher language than the vanilla FE experience, and will deal with some heavy exploration of grief including allusions to suicidal ideation (not currently present in this release). There are also some depictions of racial and sexual discrimination. If you feel this warning should be expanded on, please don't hesitate to contact me with your concerns so I can make this as comprehensive as possible.
GBA Features

Features currently implemented in the GBA release include

9 playable chapters, with 20 playable characters.
Enemy units with powerful offenses who demand respect.
Rebalanced weapons, including a overhaul of magic and bow weaponry, substantially more powerful steels, more asymmetrical design within the weapon triangle, and a greater emphasis on blade weapons as an alternative to generic swords for some classes.
A unique personal skill for every unit and some (not all!) bosses.
Passive stat boosters that will raise some stats while lowering others.
A powerful bow lord, as well as a "ranger" Jeigan. Bows!!!
Magic users who each wield powerful PRF spells unique to them.
Specific combat units with partial access to thief utility.
Several common QoL patches, such as Thracia trading and taking actions after talks/supports.
Reworked supports, with support bonuses being standardized and greatly reduced, while giving players access to any number of B supports for all their units.
A detailed storyline, with a strong focus on characters and thematic storytelling, following the start of the war through to the end of the first major story arc.
Cool hats!!!
I really want to stress how cool the hats will be.
LT Features

Features currently implemented in the LT release include

11 playable chapters, with 26 playable characters.
Enemy units with powerful offenses who demand respect.
Completely redone weapon system, with each weapon having subtypes (such as Heavy, Ice, or Fire). Many classes can bypass the ordinary weapon rank restrictions for one of these subtypes, and along with this system comes a total overhaul of magic ranks, consolidating Light/Staff rank into "Astra" and Anima/Dark into "Umbra," while dramatically increasing the number of options within either weapon rank.
Extremely powerful skills with finite uses, regenerating at the end of every chapter, encouraging you to plan the expenditure of your resources properly. You may have great challenges thrown at you, but you have some mighty tools to tackle them with.
Passive stat boosters that will raise some stats while lowering others. These boosters go into a dedicated inventory slot and, in future releases, units are planned to have 6 inventory slots to account for this.
A powerful bow lord, as well as a "ranger" Jeigan. Bows!!!
Specific combat units with partial access to thief utility.
The standard QoL features, such as Thracia trading and actions after talks/supports, alongside new features like the Turnwheel.
The Tellius base system, including a marketplace that updates regularly.
Supports are currently not implemented.
The story is currently being rewritten and reinserted to the new engine.
Cool hats!!!
I really want to stress how cool the hats will be.
Planned Features for the Future

A three act story spanning 30+ chapters, three armies, and a year of warfare.
A fully redone soundtrack, including several custom tracks. (Candidly, this is up in the air, but I'm still very keen on trying)
A cast of 40+ characters.
Free roam chapters where you can converse with characters, solve puzzles, examine your environment, and explore.
Expanded base system, with supports and base conversations taking place there.
A massively reworked support system, allowing you to grow supports nearly uninhibited, but only allowing you to activate two of their benefits at any given time. These benefits, rather than being statistical, will be new skills, often based on the support unit's strengths or synergizing with their abilities. Mix and match support setups to find combos that work for you. Supports will primarily grow based on being deployed together, rather than spending turns together, but talk conversations, base conversations, and other events might affect your support rank as well!
Even more new items! Halve your HP to create a clone of yourself! Cast chain-reacting AoE spells! Create a wall of ice, a patch of flame, or a gust of wind to control the battlefield!
A guy whose name is Mister Big who is very buff and huge.
Screenshots

These screenshots are out of date and will be updated down the line.






Known GBA Issues

Several events currently don't have map movements associated with them, including a very notable event in 1-1.
I've seen exactly one instance of somebody using VBA having 1-3 hang when they attempt to clear the map. Resetting and resuming appeared to fix the issue, and I haven't been able to replicate the bug on mGBA.
The talk conversation between Price and Rory in 1-6 can black out the screen for a few seconds if it's skipped, but this was very shaky for me to reproduce and was generally easy to break out of without losing any progress.
All but one of the support conversations are still not implemented, as supports are undergoing a minor overhaul.
Spell animations are entirely unimplemented, and almost every custom spell just shoots an arrow (or else just reuses a vanilla animation). You can take this as even further archer bias if you'd like!
William's animations are currently still set to be dancer animations.
Post 1-E Issues
Keio's promoted animation breaks at melee range. I'd recommend just playing with animations off, or at least off for her, if you intend to promote her.
Both Coinneach and the librarian have no portrait. Yes, they both use Moulder; no, they aren't the same character.
Some events will probably load to the map over and over again right now, and text formatting is inconsistent across text entries.
Known LT Issues

Ramm's Battlecry can still hit himself. I don't know why. I keep trying to fix this
1-5 need village destruction added
Keio Shock is still only 50% functional
Need to fix Karth's AI, it's a bit janky atm
1-8 inquisitors don't have camera
THIS ONE IS A BIGGER DEAL – need to create a custom version of the spell component that allows the weapon to function like a weapon, but make it unable to be equipped for enemy phase, in order to fix things like Lion's Legacy and Heresy. Until then, they just don't work the way I want them to.
Rory is really weirdly picky about drinking the vulnerary. It's more or less impossible to recruit him right now? Obviously, this is high priority to fix
Turnwheel appears to be broken more or less across the entire game. Working on a fix
Price needs his con requirement set up. Gonna need to ask for help on this one
Price's Magician is totally broken?
There are some engine bugs that I don't need to fix but are currently broken; droppable items don't display properly, rescued units crash if you try to inspect them from the units menu, enabling debug by modifying your save .ini seems to only half work, probably some others I've missed. These are kinda outside my control, but be aware that they exist.
Link to GBA Credits
Link to LT Credits (Coming Soon)

I told you it's coming soon, why did you even click?
Link to Supports (Like I'm keeping this for posterity but honestly these are so out of date that it's mostly, like, a fun oddity. Feel free to read them if it seems neat to you!)
I really hope you enjoy! This project is my baby, and I'm constantly excited to see how it grows and evolves. Needless to say, I have big plans for where the gameplay/story will go from here. If you want to get in contact with me directly, you can message me here (I try to check the forums every day, even if I rarely post), or on Discord via our development server (link below), the FEU server, or by messaging me directly at Xilirite#4899.
Like what you see and wanna keep up to date? Click here to join us in the development discord and you can see all the WIP junk that hasn't quite made it into this release!