Download the latest version here!
Hey guys, I'm not trying to make money with this remake, I only use Patreon as a media for easier access and easier management with other projects I'm working on, right now. The Remake is free for everyone and the subscription is not required, only if you want to donate something yourselves.
Tell me what you think about this project so far!
Fire Emblem IV-V: The Holy War is remake of Fire Emblem 4: Genealogy of the Holy War and Fire Emblem 5: Thracia 776 using the Lex Talionis Engine. It aims to be a new take on an SNES classic, adapting some features from the original to GBA ones as necessary, yet trying to stay faithful to the source material, rebalancing the levels, stats, weapons and places like the arena and the shops.
Chapters are going to be done as huge as they were in the original game, being a total of 12 FE4 maps + 35 FE5 maps of variable length. Later, we aim to rewrite a little, only the necessary, of FE4 and FE5 stories so they fit as only 1, making it fluent to side with Sigurd, Seliph and Leaf (names used are going to be discussed in a form for every release).
Important note about playing
As said before, this is made with Lex Taliones Engine, which means it is not a romhack, but a game itself, so no patches are needed, no roms from snes, no cheats of that kind.
To start playing execute the GotHW776.exe file.
Here you have the FEE3 from 2021 so you can see a demonstration of how the project goes: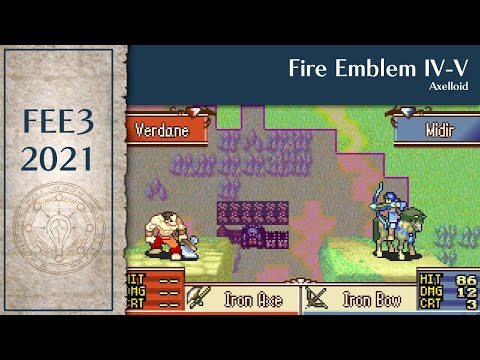 Credits inside the game. Most of them to FEuniverse and Serenes Forest Communities
Plans for game versions
Version 0.1.0 Add Prologue.
Version 0.2.0 Add Chapter 1.
Version 0.3.0 Add Chapter 2.
and so on
Version 1.0.0 Fully remade FE4's 2 Generations.
Version 1.1.0 First FE5 map added.
and so on
Version 2.0.0 Fully remade FE5's story and maps, now fitting with FE4's.
ChangeLog and Features
Download the full ChangeLog and Features file here!
Notes
Though I'm having all support I could ask from Rainlash and other people from the Lex Talionis Community it's still only me remaking everything, so there may be cosmeticals bugs and errors with some animations and sprites. Feel free to point them out to remind me of them if you wish.
If you find any gamebreaking bugs, do post about it as soon as possible so I can look for a solution and issue a fix patch.
Requires
To run the game you need to download and install the following: