"When everyone's a slow little baby, no one is"
-Ghandi or something
I've never liked designing armor knights. The idea of a unit who is exclusively valuable for defense has never appealed to me. On top of that, their speed is usually miserable, leaving them open to double attacks (even in FE7, a game with notoriously slow enemies, Wallace will never double and sometimes even eat a double himself.) Recently, I decided to face my fears. I would design more slow units.

Ok, I may have gone too far.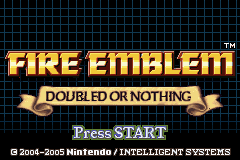 Fire Emblem: Doubled or Nothing is a short, somewhat challenging FE8 hack where all player units have 0 speed, with no chance of naturally gaining more. As all enemies have at least 4 AS, you are consistently getting doubled for the entire game. Not all hope is lost, however, as you have your wit, your grit, and a wacky grab bag of comically absurd tools.
Work through maps that increase in complexity while still building off of each other in unique ways, and do so in either the original design of Hard Mode or the toned down difficulty of Normal Mode.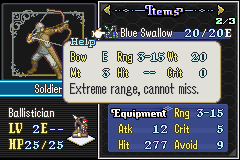 Features

Tons of new items. A large majority of the currently 14 playable units get tons of new toys to play with. Many of these are speed-related, but not all of them.



Similarly to my previous custom hack, Bases and Bandits, Doubled has passive stat boosts that incur penalties in addition to their expected buffs. Here, however, they all focus on speed.


The guide feature now provides hints! After the preps of each map, you get a new entry in the guide talking specifically about the current chapter. These hints are far from required, but they're there for those who need or want them.


Bond supports reward reliability boosts for good positioning. They cannot be built past their initial level, but in exchange are given to a large portion of the game's cast.


You're able to switch the difficulty at the start of each map past Chapter 2! Unlike modern FE, this is a two-way street. Play how you want!


Almost all of the map and boss themes were made specifically for this hack, with one or two having been made before I started on development. If you want to use any of them, they're in my music thread. The one exception to this is Unsure Journey (Chapter 7's map theme), which is an original song made for this hack specifically.
/uploads/default/original/3X/e/2/e261c35433f27e025e2161453f89c25940b24c49.mp3
Story

Currently, the story is extremely barebone, not much more than one or two events early in the game. It'll likely become more substantial going forward.
KNOWN ISSUES:
Chapter 9 has some palette errors, and its end needs more testing.
Download Here!
Discord

Join here