Hey all! We on the FEU Discord recently tried out a new mapping format, and now, it's becoming a real event. Behold, the Map Passalong, Round Zero: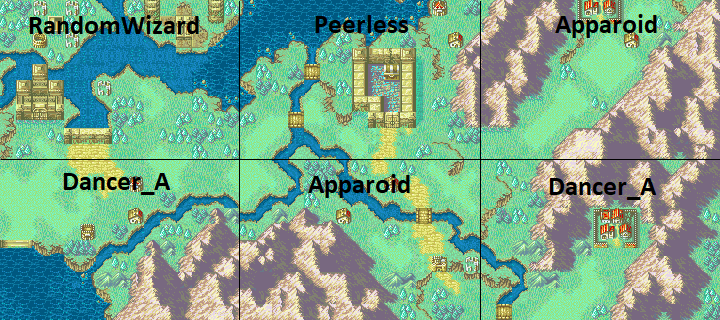 Original map

We used the Mountainous 2 palette for some reason, which is really ugly, so the main showcase is in Mountainous 1.

RULES
The event will take place over Discord, because organizing something of this nature over a forum would be extremely slow, and make it difficult to deal with things like inactive contributors. This thread only exists for housing the rules, showcasing and discussing the round results, and generating interest in the event.

Every individual piece is the size of one GBA screen (15x10 map tiles). The host will (randomly or not) distribute these screens between the entrants and start the round.

Mappers are allowed to edit only the screen(s) that they have been assigned. After finishing their screen, the mapper will send the .tmx file to whoever is available at the time. There is no predetermined order, which should generate some amount of chaos and make the end result more unpredictable.

The map will only be publicly revealed once every screen has been mapped. Mappers are not allowed to post pictures or the source file publicly until this moment.

Don't put tile changes in the map! Some map editors (FEBuilderGBA, FE Map Creator) are unable to open .tmx files if there are tile changes from other editors.
ROUND 1
The tileset for ROUND 1 is:
FE8 Castle 2

To enter, simply join the FEU Discord server and state your interest in the cartography channel.