I have, over the past couple weeks, been developing some code for the purpose of allowing for more than 6 weapon ranks. This is only a part of it, allowing for the replacement of the icons for the current weapon ranks.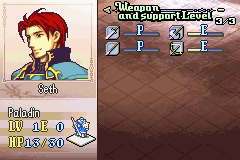 Inside the code is a defined area called "GlyphList" with a series of bytes after it. These reference this sheet.
If there are any problems or issues with this, please let me know and I'll look into it. I haven't tested this with many other ASM codes, so I don't know of any compatibility issues.
I am still working on the additional weapon ranks, but that is still very much in the works.