Y'know what, what the heck. I was going to put this here eventually anyway, may as well do it while I should be doing homework.
Normally my games are a long, single chapter with lots of custom code, but I wanted to go in a different direction and make a game with lots of small-to-medium chapters with as little coding as possible, basically something of a more "standard" FEXNA game. I'll probably still make some (read: a lot of) custom skills, but I'm going to try and focus on content. Speaking of content, here are a couple quick screenshots to show there's actually something going on: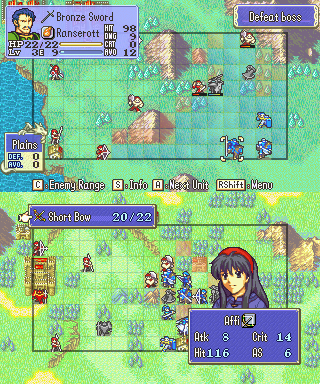 I'm a bit further along than when I made the SF thread, but I'm still looking for characters and maybe even some map and skill ideas! Have a self-insert or OC you want to see as a playable or a boss? Toss me the mug, class(es), something to do with stats, and join/fight time/situation (currently only a few slots remain for both PCs and bosses in earlygame, but I've got plenty of space for midgame and some for lategame) along with whatever dialogue or description-stuff you want, and maybe I'll add them to the Sheet!
(Maybe later I'll post a template of some kind and link back to it in this post)