So i used the time between exams and the new semester to give a crack at making an FE9 randomizer. What i ended up with was a Character Editor/Randomizer for Windows. I haven't actually done a complete test run yet, but I'm posting it here now for 2 reasons: The semester started, and i hit some brick walls i would like to ask for some help with.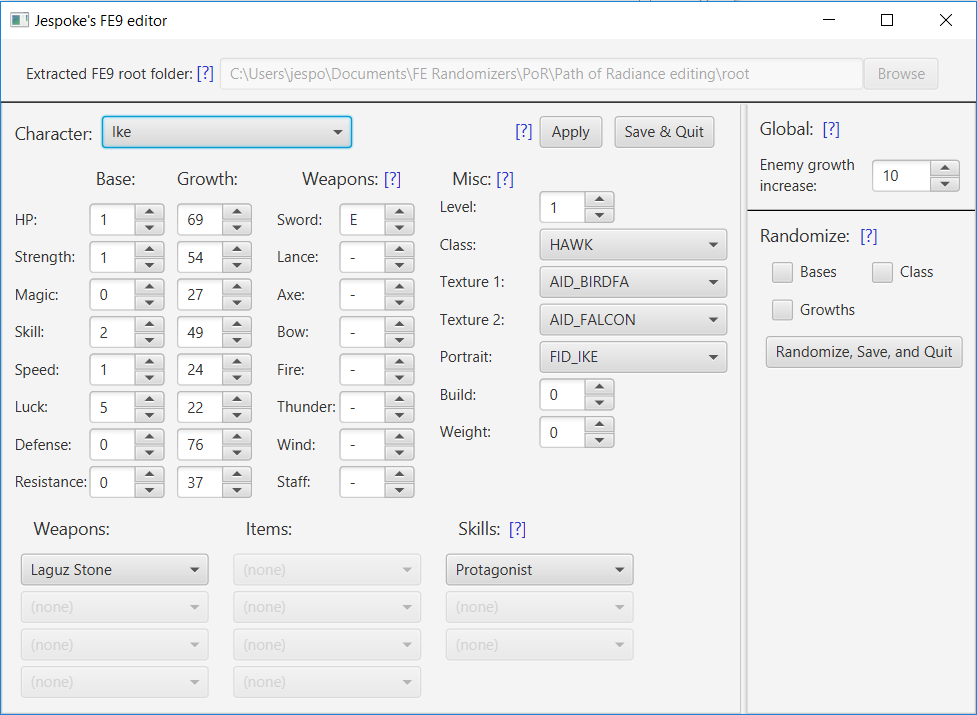 It takes a (now both PAL and US) FE9 root folder, that can be extracted with GCTool (remember to mark "Also extract header, apploader, DOL, and TOC"). All the decompressing/recompressing of relevant files is handled automatically with a modified version of Nintenlord's compressor, including automatic recompressing if you exit without saving with the X button. Then GCrebuilder can be used to rebuild the ISO.
I've done what i can in the way of hint tooltips and ensuring people don't break anything.
Character editing features:
Bases
Growths
Weapon ranks — What weapons you can actually use is class based though
Level
Class — Automatically changes the textures to class defaults
Textures
Portrait
Build and Weight
Weapons and Items — Only replacing, no adding
Skills — Only replacing, no adding
Enemy growths — Applied globally to anything not on the playable characters list actually
I also made a randomizer section with:
The randomizer creates a log with the changed values in it, as well as one with only the growths for avoiding spoilers.
Bases and Growths both swap Str and Mag so the higher one matches the class's weapon type.
Class randomizing has some nuances: A character's highest weaponrank is applied to the new class's primary weapon, and the last item in their inventory becomes an Iron weapon for their new class. Laguz classes are handled by counting 1 laguz level = 2 beorc levels, and weapon ranks are assigned by level too. Laguz have a Laguz Stone as their starting weapon (i tested, it works).
For now Ike is forced to become a flying unit so that he can recruit Marcia and Jill.
As for the features i would like to make but need some help with:
Allowing more items in starting inventories. Just putting the items in the dispos entries is not reflected in game, seems like everyone's number of weapons/items is hardcoded somewhere.
Allowing more skills than in vanilla. Same as above, just putting them in the empty slots is not reflected in game.
Moving Marcia and Jill. I found so many nicely named and ordered function names in the Scripts folder, but i can't figure out where they are called
If you want to try it it's in my Onedrive public folder. You need the whole "FE9 Character Editor and Randomizer" folder: https://1drv.ms/f/s!AsfU3qRjcTTdhi8Mglgc0qgyEr-C
Source code on Github: https://github.com/jespoketheepic/FE9-Character-Editor-and-Randomizer