---
|UPDATE|
2nd Demo Out Now!
Hi everyone! It's been a little while since I updated this, so here I am to announce Fire Emblem: Of Blood and Gold's second playable demo!
Change Log:
-4 new chapters
-Heavily reworked chapter 3
-5 new playable characters
-An opening cutscene
-Changed Bayleas's class to Hunter, w/ new animations and map sprite
-Altered portraits for all current and new player units
-A bunch of new items found in the new chapters, including a couple personal weapons
-Added enemy range patch
Four destitute mercenaries arrive in an unfamiliar land, seeking fortune and fame. On their journey, they'll change the course of history, and save the land from those who would subjugate it for their own interests.
Here are some Pictures;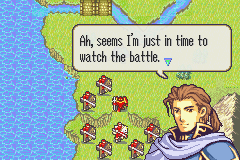 Currently, the game has the following:
-6 chapters + 1 side chapter
-14 playable characters
When the game is finished, it will hopefully have:
-10 chapters + 2 side chapters
-19 playable characters
The final version should be available by early 2023, April at the latest. It will feature chapters 7-10 (plus another side chapter), a few new units, support convos (maybe), new villain portraits, and many small changes to balance and such.
If you take the time to play it, I would greatly appreciate any feedback regarding the gameplay and/or dialogue. Thanks to everyone who checks it out!
Intended difficulty is Normal, patch is for FE8
How to access the side chapter

Defeat the boss of chapter 4
1st Demo:
2nd Demo (+Balancing Update +Portrait Update):
https://drive.google.com/file/d/1JGxRIC2xdSCmO7fb_-AOsCeXRHqbyqlG/view?usp=sharing
Credits
lmk if I missed anything here, and btw some stuff in the credits isn't in used in the current demo, but is in the patch and will be used for future versions.
Credits - https://drive.google.com/file/d/1zPEBQp_hvyuu6KnZWuvI9_NV5e4FJVUx/view?usp=sharing