Some people have called FE8 "too easy" or "too enemy phase focused". Blasphemy, I say.
This is FE8 Storymode, where all your units have plot armor and cannot die. Additionally, ending your turn makes the rest of your units act automatically.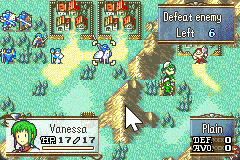 This way you can watch as the AI clears the game for you.
Credits

ASM - Vesly
Casual Mode (in case you die to traps) - circleseverywhere
Actions after talk/support - circleseverywhere
LeaderAIFix - stan
LessAnnoyingFog - Leonarth
RNGRandomizer - TR143
Enjoy!