Hey everyone, I'm PhantomSentine and I'd like to present a project that I've had in the works for a little while now, Fire Emblem: Wrath of the Crusade! This is a work-in-progress FE8 ROM Hack, and was only made possible thanks to the incredible resources put out by this community, in particular the amazing Skill System. This project is still very much still in its early stages, and I hope to keep improving it with feedback from the community to make it into something special. So, without further ado, here's what you can expect from Wrath of the Crusade!
Screenshots: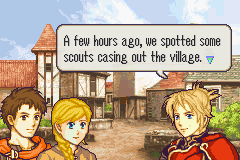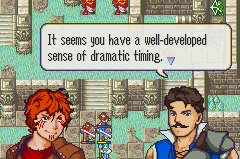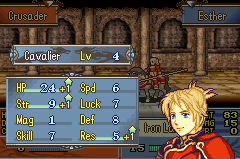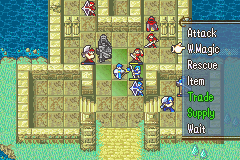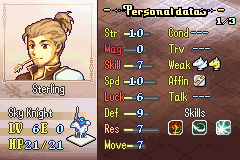 Features:
Playable through chapter six, including a prologue. The current plan for the completed hack is roughly 25-32 main-story chapters.
This hack is balanced around the "Difficult" setting, and is intended to be fairly challenging after the introductory chapters. "Normal" and "Easy" currently features lowered enemy stats but no other changes.
A Fates-style weapon triangle, where Swords/Tomes > Axes/Bows > Lances/Daggers. Tomes are further broken up into the trinity of magic, where White > Dark > Anima.
Fates-stlye weapon triangle bonuses, which are based on the advantaged unit's weapon rank. Units also gain weapon rank bonuses, but lose these bonuses while at weapon triangle disadvantage.
Light magic and staves have been combined into white magic. Staves are used through the relabeled "W.Magic" command.
Fates-style battle calculations
Hit: (Skill x 3/2) + (Luck x 1/2)
Avo: (Speed x 3/2) + (Luck x 1/2)
Crit: (Skill - 4) x 1/2
CrEv: Luck x 1/2
The doubling threshold has been increased to 5.
Weapon rebalancing based on Fates. Weapons have infinite durability, but more powerful weapons have various drawbacks (i.e. attack speed penalties, after-combat debuffs, etc.).
A reworked WExp system, where units only gain 1 WExp per combat. Weapon rank WExp thresholds have been generally lowered to compensate, resulting in slightly slower but more consistent WExp gains between units.
Thieves (and certain promoted classes when they become available) use daggers. Daggers can attack at ranges 1-2 and apply debuffs to their target after combat.
Con, Aid, and weapon weight have been removed. Player units can rescue any blue unit, but can't rescue green units.
Adjacent allies provide each other with a +10 Hit bonus, but these bonuses are halved if there is more than one adjacent ally (i.e. 1 ally = +10, 2 allies = +10, 3 allies = +15, 4 allies = +20). All factions gain these bonuses, including enemies. This bonus is part of a reworked support system that will be expanded upon in the future.
Fates-style skills! All playable units, and some enemies, have unique personal skills. Unpromoted classes learn skills at levels 1 and 10, while promoted classes learn skills at levels 5 and 15.
Plot:
In the heart of the Empire, a long shadow is cast by a rising army calling itself the Crusade. Endorsed by the Church of Khairn, the crusade marches across the land, conscripting those who submit to their rule and eradicating all who stand in their way. An enigmatic warrior known as Ashatiel leads her crusade in their conquest, claiming to serve the will of the gods.
Quickly establishing their dominion, the crusade begins to spread to even the furthest corners of the Empire. When the crusade reaches the isolated village of Westhaven, two friends, Alain and Skylar, find themselves drawn into a conflict that will shape the future of their nation and beyond.
Download it here!
Wrath of the Crusade v0.1.3
Previous Versions
Wrath of the Crusade v0.1.2
Wrath of the Crusade v0.1.1
Wrath of the Crusade v0.1
Changelog

Version 0.1.3
-The prologue through chapter four have recieved minor reworks. Some enemies will now spawn without their default class skills. Chapters three and four have reworked enemy placement and reinforcements, and chapter four has had a slight map overhaul.
-WExp has recieved a major rework. Units can now only gain 1 WExp per combat (i.e. doubling does not grant 2 WExp, no bonus WExp for kills). WExp required to attain each rank has generally been lowered to compensate.
-Implemented method to spawn units without their default class skills
-Gil has recieved 2 more HP at base (up to 20) to make him just a little less squishy.
-Wall HP during Chapter Three has been incresed to 30 (from 25).
Version 0.1.2
-Chapter Five now has no village requirement before escaping due to unresolved bugs causing a game over even when the victory condition had been met. The visit-three-village requirement before escaping will be restored in a future version.
Version 0.1.1
-Missed a NoFade in the prologue, whoops.
-Changed canto to not trigger on seize (and by extension, escape + arrive) which fixes a bug where a unit with canto that has a rescuee escaping last durring Chapter Five would get stuck in a loop where they can't end their turn.
Version 0.1
-Initial release!
Credits:
(If I missed anything, please let me know!)
Tech Stuff
Big thanks to everyone who contributed to the Skill System!
Battle Animations by Character - Tequila
Status Staff Modifications - Datagne
Remove Unused Weapon Ranks on Promotion - Venno
Murder Sticks - Zeta, Gilgamesh
DSFE Style Healing - Venno
Modular Minimug Box - Zane
Battle Animations
Vanilla Knight w/ Axes - TBA
Female Fighter - Black Mage
Archer Repalette - flasuban, DerTheVaporeon
Male Pegasus Knight - SixThousandHulls
Wyvern Rider w/ Axes - Mikey Seregon, Alfred Kamon
Improved Soldier - Alusq
Male Mage Lord - Eldritch Abomination
Female Mercenary - TBA
Male/Female Thief Repalette w/ Knife - Pikmin1211, Maiser6, Skitty, GabrielKnight
Princess Celica - Red Bean, Jeorge_Reds
Map Sprites
Priest Improved - flasuban
Knight w/ Axe - Agro
Female Fighter - Alusq
Alt Soldier - Alusq
Female Mercenary - Agro
Priestess Celica - blood
Wyvern Rider w/ Axe - flasuban
Conclusion:
I really hope you enjoy Wrath of the Crusade! I've done my best to bug test but I can't promise I've caught everything, especially in the later chapters. Please let me know if you find any bugs. And of course, thanks for checking out my project!