Your adventure follows the protagonist, Edgar (Wraith) Calithan, as he treks through the perilous lands of Tierra Maldita, the damned land. There have been kidnappings across several nearby villages, with the circumstances of the disappearances between the victims all sounding eerily similar to each other. Follow Edgar and his eclectic group of found companions as they get to the bottom of this mystery. But be warned, in seeking answers, you will encounter many dangerous foes moving to ensure your demise.
This hack includes many things I enjoy in FE games and games in general.
If you're like me, and you enjoy character driven stories, difficult but fair encounters, high crits, short and sweet campaigns, prfs, secrets and true endings, then this hack is for you.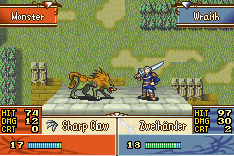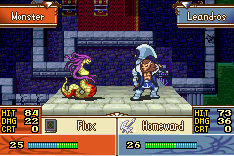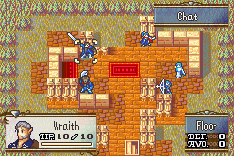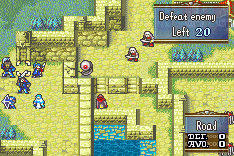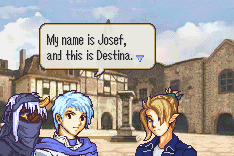 Are you up for the challenge?

Download the patch here [v1.0]!
Patching instructions: How to Patch a Rom v5
Patch notes

v1.0 (1/12/23)
All chapters completed and released!


More bug fixes
All content in and functional

v0.3 (10/22/22)
Ch. 5a, 5b, and 6 released!

Some bug fixes

New maps, sprites, and other assets

Complete support conversations

Chapter select removed

v0.2.2 (6/20/22)
Bug fix patch

Fixed bug where stairs wouldn't take you to the right place in ch. 3
Updated Lea map sprites
Updated hunter descriptions
Ch. 4 released

v0.2.1 (6/10/22)
Quietly releasing an update

New original tracks!

Main theme (Main theme)
Map theme (Daydream)
Battle theme (Swift decision)
Secret theme (Forest dweller)

Chapter select (for now)

v0.2 (5/15/22)
Ch. 2 and Ch. 3 released!

More QoL patches
Skills!
More balancing
Made some things a little more obvious…

v0.1.1 (3/28/22)

Added QoL patches (cool health bars!)
Edited visuals so paths are more obvious
Overall power balancing

All levels scaled down so it makes more sense to look at
Hunters get less exp
Hunters have less growths

Hunters class description updated
Some bug fixes

Emulator bugs aren't fixed. Will inquire about this before the next release.

v0.1.0 (3/26/22)
Demo (Ch.1) released!
Assets and scripting

Team SALVAGED
Maiser6, ZoramineFae
SHYUTERz
LemonTart
Aura Wolf
Generic Pretsel
SMITHYGCN
Deranger
Merpin
Teraspark
Mikey Séregon
Runa
ObsidianDaddy
ZoramineFae
Rootrick
Zarg
Sacred War
Tanakakiri
Some cg images adapted from Pexel.
Kenpuhu
Mikey_seregon
Mariode
GratedShtick
Beansy
Seal
Shin19
zmr
Travant
RandomWizard
CapibaraInSpace
Sme
CanDy
Merpin
DALL-E
free
Kanna
knabepicer
l95
Nuramon
Testers

Vorpal Goat
Pernele
Bowiechowie82
Ceruhi
Proofing
Full rendered character art

Edgar "Wraith" Calithan, lounging in a dilapidated bar

Simon "Leandros" Galadus, hunting for artifacts at sunset

Giulia "Regalia" Esprita, (Coming soon…?)

(Coming soon…?)
Behind the scenes (SPOILERS)

Hello! I made this section to give some insight on the story/design side of the creation process for the hack. Starting this project, I wasn't familiar with the medium, so it took awhile for me to get a good process down for creating things for it. Hopefully by taking you through my process, it'll provide some guidance. If not, it might just be interesting to see!

For any and all sketching, I used Procreate on an iPad. That's my general go to when drawing anything. For creating the in game assets, I used Aseprite. My process for creating portraits was to sketch my concept as small as I could on my iPad, export that into Aseprite, trace it, then render it from there.

This yielded mixed results! If you want your sprite to look "Fire emblem-y", you should start with a spliced base and edit it. I found that a lot of the details I wanted didn't carry over from the sketch and my end result would look kinda funky due to certain constrictions regarding rom hacking. It also takes a long time to make things completely from scratch.

For example, above you can see my initial portrait for Wraith… Not great.

Speaking of Wraith, this was a character that I had created several years ago. Almost the entire cast originates from the Tierra Maldita world which I have been developing for a few years now. I plan on that to be a much larger project, with this hack being a test run for that. The final project won't be another rom hack though.

You can also bring the sprite back into your drawing software and sketch over it if you want to see what you can get away with visually.

Destina and Josef are some of the people that were created solely to be in this hack. Conceptually the idea of Destina was the same as early on, being someone who got transformed by the curse, from a human to a monster, similar to the hunters. I initially wanted her to be kind of like a witch? But then I decided to go for a multi animal hybrid type of demon. In her final design, she is a wolf/deer/goat person.

I just wanted Josef to be a good anime boy. When I started sketching him, I realized that it would be so generic, there was no point on continuing. That little face here is the only drawn art of him.

"Fate" has a real name! It's Silus
He is one of my earliest characters since I started intentionally creating stories. He was also my DnD character for 3.5 years. The drawings here also span across that time period so you can see how I got better at drawing

The short of his story is that he was a wolf that was imbued with magic powers, making him sentient. Then he was trained to be an actor (previous event unrelated) and then joined an adventuring party. His story ends with him ascending the world he is from and now travels to other ones to witness the stories of others.

I guess he's kind of like an 'Ana' from the FE series, and even a self-insert at times. This is not the first or last time he will show up in my creations.

Placeholder CGs for the Ch1 demo I used while I was figuring out eventing. Would recommend using placeholders for things like that!

A few examples of sketches for my maps. My general approach was to think of the experience I wanted to give the player first and then design the level around that.

For example, in Ch3, I wanted players to feel oppressed by their environment and enemies surrounding them. They should be tactful, but ultimately be more defensive than aggressive. A fog map came to mind for this since limited visibility makes you feel like your back is against a wall, or needs to be. Initially the concept for that map was that you would huddle around a source of light (campfire) while enemies came at you, like that one Path of Radiance map.

Like sprites, I would recommend looking at a base map to start and then modifying it, for the same reasons.

I don't see a lot of people talking about creating music for hacks, so I think I could be of some use here.

For reference, the above shows the song "Decide Your Fate".

I use FL Studio to compose and process all of my music. For this game, I used a soundfont player and loaded up the piano sounds that's recommended for this game. Then I created an instance of it for each instrument track. Make sure you don't mix them together or you'll regret it when you convert it to midi. You should generally try to keep things simple as you won't have access to a lot of your mixing tools.

From here you just compose it. I don't think I'm a good composer so you'll need to go elsewhere for advice on that, but again, keep it simple! All of your favorite retro game music is probably way more simple than you think.

Once your done, convert your file to midi. In FL, there is a macro that preps your file to export to midi that youll need to do first. MAKE SURE YOU MAKE A COPY OF THIS BEFORE PREPPING FOR MIDI ELSE YOU WONT HEAR YOUR MUSIC ANYMORE. If you need loops, take that file and drop it into Anvil Studio and do all that good stuff.

Another pro tip, name your instruments what you assigned it as, so when you configure that in FEBuilder you know what it is at a glance.

On the note of keeping it simple, this is "Main Theme".

---

Alrighty, that'll be it for now. As usual, if you have questions lmk
Hope you enjoyed this!
FEE3 2022 Showcase
First release intro

I am officially releasing this demo I've been working on for my rom hack, Tierra Maldita. This takes place in a world that I've been slowly building over the course of the past year or so. This hack will be fairly short, likely to be around 7 chapters. Releases may take awhile as I am the only person working on this project, but I will keep this thread updated with progress.

While there are many custom and revised assets, I can't say that there are any particularly unique features. At least not yet.
Honestly the main motivation was to make this for myself, but hopefully there will be some of you that will enjoy this story and characters as much as I have!

If you are enjoying this project or there are any issues, please just lmk!
Discord: Keyv#9931
DMs are open!