Hello people, I have reemerged from my slumber to reveal a new project I've been tinkering on for a while now. It is a hack of FE8 called Fire Emblem: The Drowned King!
It is an old-fashioned ROM hack supposed to play something like how FE7 does, with linear promotion and a single-routed story, and no skills.
The Story
The Drowned King takes place on the continent of Ferris, split into six nations. The Kingdom of Ambrose. The Theocracy of Auspicia. The Dacian Coalition. The Republic of Pontus. The Northern Islands. And finally, the Empire of Valeria. The story takes place thirty years after a brutal conflict known as the Iron War.
Since the war, Ferris has existed in relative peace, though tensions have flared up once more. Dacia and Valeria have signed and alliance and have begun attacking Ambrose and Auspicia. As a result, the King of Ambrose, Leopold, has gone on a journey to meet the Valerian Emperor to sort things out before they escalate further.
Our story follows Randall, a solder in Regiment XIII of the Ambrosian army. A small unit stationed on the Dacian border and generally considered the dregs of the military. Everything changes when what seems like a simple border patrol ends up becoming something much more sinister…
Planned Features
28 Chapters
54 Playable Units
Support Conversations
An actually good title screen
FE8 Style World Map, though with no skirmishes or tower, useful for shops and worldbuilding
Current Features
8 Chapters
22 Playable Units
Support Conversations
The Cast
Randall: Our protagonist. A soldier in Regiment XIII of the Ambrosian army. The son of a legendary mercenary.

Stanley: The captain of Regiment XIII. A former royal guard who retired from his position.

Kristoph: A priest who travels with the Regiment. Stanley's oldest friend.

Thomas: A knight from Regiment XIII. Randall's adoptive brother.

Elaine: A knight from Regiment XIII. Kristoph's daughter.

Corey: A sleepy fighter from Regiment XIII. Works as their scout.

Leopold: The beloved King of Ambrose.

Caspian: The Emperor of Valeria. An extremely patriotic man who has ruled since the Iron War.

Eleazor: A mysterious swordsman affiliated with the Dacian army somehow.

Map Examples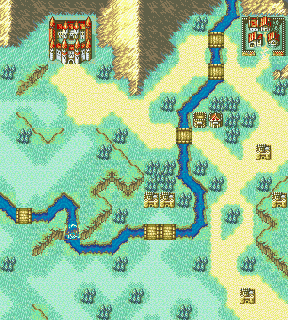 Screenshots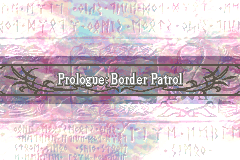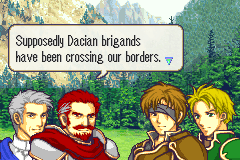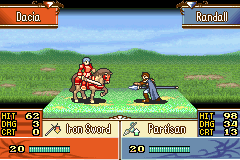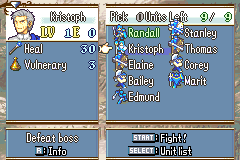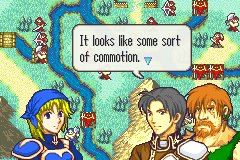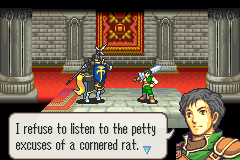 Patch
The Drowned King