So you want to see a miracle?
The current version contains act one of the game. It goes from the Prologue through Chapter 11, plus one Gaiden Chapter. I know a lot of players choose to pass on in-progress hacks, but in this version you can experience the full first part of the story, and the characters will be in quite a different place at the end than they were at the beginning (you can think of it like the first season of a television series).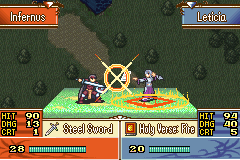 If you've followed my hack, Deity Device, you probably know I've been working on a sequel of sorts. This project started with me wanting to tell the story of what happened long before Deity Device, but it evolved into a game that is primarily a sequel set a few hundred years afterward, with the distant past being a set of extended flashbacks. While I wouldn't 100% say that you need to have played the first game to get into the story, the way it's written assumes knowledge of those events. So if you haven't played Deity Device, consider checking it out here.
If you played the "Bonus Disc" that was packaged with Deity Device, the first two chapters will be familiar, but too much has changed for saves from that version to work correctly, so please start a new game. I think my portraits will be somewhat less hard on the eyes than the ones that were in the original Deity Device release, with most portraits from the Bonus Release at least having their colors improved and Georgette receiving a completely new design. Most of the distant past portraits probably need a rework as they were made before I worked up the nerve to release Deity Device, but I haven't gotten to it yet. I drew quite a bit of the clothing from scratch, so I apologize if the perspective seems off.
Story-wise, the game might not seem like Fire Emblem. The conflicts presented are mainly in the Man vs. Society category, and no one is at war. Maybe you'll love it or maybe you'll hate it (or you'll fall somewhere in between, I guess). As might be expected from me, there's a lot of dialogue. Those who don't like to read may wish to pass.
Old Patch Archive
Something to note: Based on player feedback, vba has trouble playing some of the cutscenes. Use mGBA for a more stable experience.
Gameplay Flow

The game is broken up into three main parties. Two in the present, one with Martha as the main character, and another with Milton as the main character. The third party follows events in the distant past.
Gameplay Changes

Firstly, take note if there is a star within a unit's or item's description. A star in a unit's description means that the unit is a Gameover Condition. This updates from chapter to chapter, so if a unit is no longer a Gameover Condition. He or she will no longer have a star.

A star in an item's description means that the item will have its uses restored between battles. This will be familiar to those who have played Deity Device, but a few non-spells get this treatment, so pay attention.

Weapon ranks are a little different, so here's a breakdown. Although Thieves have a Sword Rank, they cannot use Swords. Thieves may equip Knives and Daggers. Likewise, Sword wielding classes may not use Knives and Daggers. Knives and Daggers are doubly affected by the Weapon Triangle, and while I'm on the subject, the Weapon Triangle's influence has been raised to 20 hit/avoid and 2 damage.

The Staff Rank has been renamed "Assist" due to to it encompassing both Staves and innate White Magic.

Anima magic returns with new greenish icon. The Anima Rank refers to wielding Tomes and is separate from the innate magic wielded by those with a Leticia Rank. The icon that looks like it is half Light and half Dark is what I call the Divine Rank. This rank consists of Light and Dark Magic. Divine has Triangle Advantage over all Anima like in the older games, but this is a weaker Triangle Effect than most, being only 10 hit/avoid and 1 damage. Meanwhile, the internal Anima Triangle has the same effect as weapons.




Ability to wield different types of magic varies across classes, even if the requisite rank has seemingly been achieved. This will be noted in the class description.

In the above examples, it can be seen that the Flare Mage Class can wield Fire and Dark Tomes up to Rank A, as well as Light Tomes up to Rank C. The Female Priest Class can wield Wind up to Rank A and Fire and Thunder up to Rank C. The Staff Icon means that the class is able to use more advanced staves, such as Sleep.

Some other Gameplay changes beyond standard hack quality of life changes are as follows:

-Thracia Style Capturing

-Ability to Steal Staves and Unequipped Weapons (no Con requirements) and Steal with full inventory

-Being Dropped after a Rescue does not consume the Dropped Unit's turn

-Units with Canto/Canto+ can Drop the same turn they Rescue

-Poison Damage is Increased, and Poison can Kill, so be careful!

-Story based Supports-supports ranks are gained through story events

-Skill builds-characters do not gain skills through level up but rather have unique builds from the start
that are meant to inform their role in the party
About the Content Rating

The main reason I gave this game a higher age rating than Deity Device is that the story is planned to contain depictions of human sacrifice that may be disturbing to some. The demo does not contain these scenes. The most noteworthy thing in the demo is probably use of alcohol and some language.
Credits

Battle Animations: Eldritch Abomination; RedBean; HyperGammaSpaces; Jono; GabrielKnight, Seal, Sacred War; Salvaged; Leo_link, Pikmin1211, The_Big_Dededester; Primefusion; Feaw; Iscaneus; Nuramon; Jeorge Reds; TheBlindArcher; DerTheVaporeon; Maiser6; Skitty; Mikey Seregon; Ukelele; SD9K, Temp; Black Mage; Wan; Sme; Sax-Marine; ZoraminFae; Jj09; Devisian_Nights; Jubby; fuzz94; Greentea; ltranc; Zelix; RobertFPY; knabepicer; Jey the Count; Aruka; Kenpuhu; Spud; St Jack; quizf007; eCut; Flasuban; TBA; SamirPlayz; Lisandra_Braze; Shin19; Dolkar; Marlon0024; Asael; Huichelaar; TytheBub; Terespark; Isaac; SHYUTERz; CamusZekeSirius; FEGirls; Raiden; Melia; Ayr; Faolin; N426; Circleseverywhere; Tsushi

Map Sprites: FE7if; Leif; ArcherBias; TAS20XX; Pikmin; SamirPlayz; L95; MeatofJustice; knabepicer; Marlon&Louis; DerTheVaporeon; Rasdel; Nuramon; Its_Just_Jay; flasuban; Sephie; Ash3wl; Dominus_Vobiscum; TytheBub; N426; Devisian_Nights; Melia; blood; Ayr; TopazLight

Spells: Alusq; Thunder Mage; 7743; Orihara_Saka; MisakaMikoto; SHYUTERz; St jack; Bonzai; Blazer; Mikey_Seregon; Sme; Compile; Jubby; Arch; Shtick; Orihara_Saki; Beansy; Hiroto; bwdyeti

Repo Portraits: Sphealnuke; RandomWizard; LaurentLacroix; Melia

Creators of Edited/Spliced Deity Device Portraits: LegendofLoog; knabepicer; RandomWizard; Sterling_Glovner; DainnofGungnir; HyperGammaSpaces; Devisian_Knights

Class Cards: L95; RobertFPY; Aruka; Yggdra; flasuban; Der; Arch; Shtick; Salvaged; Rasdel; N426; Orihara_Saki

Patches: Circleseverywhere; Monkeybard; Black Mage; Tequilla, Rossendale, ShanH, Leonarth, Teraspark, sd9k, Kao, blademaster, Snakey1; Primefusion; Agro; Brendor; 7743; Kaito; Hextator; HyperGammaSpaces; Snakey1; Zane; ipatix; Sme; Scraiza; Alusq; aera; Vesly; vennou

Tilesets: flasuban; HyperGammaSpaces; ZoramineFae; Venno, N426; WAve; RandomWizard; Beast

Item Icons: Leif; Erishkigal: Peerless; GabrielKnight; Zarg; Seal; SacredWar;

Music: RSflame; Pandan; A_Reliable_Chair; Meilu; Sme; RandomWizard; Mr.Green3339; MysteriousDancer; Dolkar;

StatScreen Base Images: kabepicer; kirb

Skill Animations: SHYUTERz; Mikey_Seregon
And a last note. The Patch has several assets implemented that constitute spoilers. If you cannot help yourself from snooping around in FEBuilder, Please Do Not post about your findings here. If you must have something addressed, please message me instead.