Nearly 2 years ago, I started to tinker with a little project that has blossomed into something much more than I could have ever anticipated. After a 10 months of working on an update, I present the latest version of: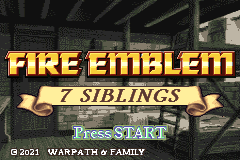 Overview
The land of Farna has been at an uneasy peace following the fierce Magus war. However, 25 years after the fact, strife bubbles once again. Unanswered questions from the previous conflict abound, with dark forces on the move. One family finds itself at the center of the intrigue. An ailing mother and her seven children must navigate the trials that await them, while clinging to each other as they never have before…
Current Hack Features
Totally new story, maps, and characters

A wealth of new classes, weapons, and QoL improvements

Nearly all new weapon icons, menus, and UI elements

(Mostly) All-new soundtrack

22 chapters worth of (I hope) engaging and innovative gameplay

And much more, you'll have to play!
WIP/Planned Features
Supports are functional gameplay-wise, but there are no support convos

29 total chapters planned

Game balance is a never-ending journey
The World of Farna
Recent Screenshots
Map palettes from various contributors look outstanding!

New battle screen has been formatted and inserted!

New stat screen also!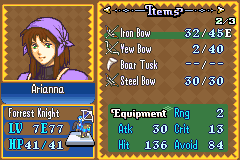 New weapon icons have been impletmented!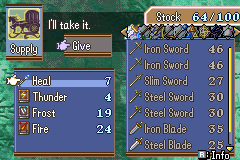 Ch. 17 is now balanced and playable! Take the fight to Mivarna in the new story arc!

Unite the siblings and their allies to save Farna!

Main menu UI has been overhauled!

Hope you guys enjoy this patch, when I started I couldn't imagine being at this point! Most updated patch is below. Apply to a clean FE8(U) rom.
Download Link for Latest Update
There is now a discord server! Link Below!
Up-to-date Credits
Assets used or adapted from:
Mugs- Nickt, Eldritch Abomination, Memai, Blueyguy, Capibarainspace, FEier, GabrielKnight, LaurentLacroix, Marlon0024, Vilk, AmBrosiac, DerTheVaporeon, MiguelRojo, Serif, MrGreen3339, Nobody, WAve, Zorua, MrKarkino, Tobiki, Zarg, Zmr, Auto, RandomWizard, Levin, Melia,
CobyTheGoober, caringcarrot, Atey, Mewiyev, Ecut, BoneManSeth
Map Sprites- FEGirls, RobertFPY, StreetHero, FE7if, Ash3wl, L95, Agro, team SALVAGED, Nuramon, Blademaster, BlueDruid, Pikmin1211, Teraspark, flasuban, team SALVAGED, N426, Smug_Mug, ArcherBias, ZoramineFae
Animations- St jack, beccarte, Keks_Krebs, SD9K, Glenwing, DerTheVaporeon, Andy, Jj09, GabrielKnight, Maiser6, Greentea, Raspberry, BwdYeti, Pikmin1211, MK404, Temp, Orihara_Saki, TBA, flasuban, team SALVAGED, shadowofchaos, Jeorge_Reds, Sme, Shtick, Ayr, Teraspark, Eldritch Abomination, Red Bean, Zelix, Wan, Tristan_Hollow, L95
Spells- Arch, BwdYeti, MikeySeregon, Blazer, HyperGammaSpaces, Seal
Music- A_Reliable_Chair, SaXor_the_Nobody, Pikmin1211, Sme, Tristan_Hollow, MrGreen3339, Pandan, Scraiza, MeatOfJustice, Dolkar, Alusq, CivilYoshi, DerTheVaporeon, Devisio
Item Icons- LordGlenn, Zelix, Lisandra_Brave, Ereshkigal, GabrielKnight, Zarg, Seal
Tilesets/Palettes- Sme, Flasuban, Zoramine, Pandan, WAve, Nickt, GFE1R team, Venno, Peerless
Class Cards- Seal, Blademaster, MeatOfJustice, L95, RobertFPY, DerTheVaporeon, Flasuban, Melia, Ghast, Shtick, EldritchAbomination, team SALVAGED
Backgrounds- WAve, Seal, HeartHero, Norma2D
Fonts- Btsamm
Other Help
Maps- A_Reliable_Chair, Scraiza, Snakey1, Pandan
Playtesting- Pandan, A_Reliable_Chair
Palettes- Pushwall, Pikmin1211
Tools/Patches- 7743, Zane, Venno
If I'm missing anyone, let me know! Thanks to everybody here at FEU for supporting the project.