Same, or the 40 caps for G2R2 and Super Thracia
It's been a month since the last public update, so I wanted to give a small update. Over the past month, half of it was spent on me being unable to work on the project. Thankfully, I've been able to expand the team, and things are starting to pick up speed again. I'm really grateful to everyone contributing to the project and helping out. It's really starting to feel like a team project, and I hope that's something that will continue going forward.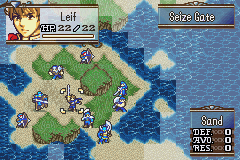 Chapter 2x is about 90% finished. It just needs a coat of polish to be complete, but is otherwise working as expected.
This hack won't make use of Thracia fog. While it was present in SGW for THAT chapter, it won't be used here because I don't think it really adds to the difficulty and people could just look up the original map on the internet if they really wanted to. The path drawing algorithm also gives you a bit of an idea of where you can go anyway.
Dagdar has 60 HP because I was just doing some event testing at that time related to bosses. In this hack, when you fight a boss, three things can happen: You kill them, capture them, or release them. Depending on what you do with them, something different will happen. Maybe you'll get an item. Maybe you'll trigger a new event in a later map. And of course you'll still be able to recruit those that you always could.
In the last screenshot, the v1 August mug appears. I hope to improve upon it over time.
Thank you for your time and please don't hesitate to ask if you have any questions, comments, or concerns.
hack looks sick, id love to help out if i can! i can't do tooo much but i know i can at least help out with unit palettes and writing (though that isnt needed too much on an adaptation lol)
Hey everyone, it's time for the monthly project update.
I spent most of the past month working on finishing chapter 2x, adding in QOL improvements, and finishing up some elements of the base ROM by updating classes, magic animations, and items. As such, I don't have much to show off this time since most of the work I've done is behind the scenes.
In regards to chapter 3, all the dialogue has been translated, but work on chapter 3 events have not started.
Sorry for the rather brief and simple update, but I'll do my best to assure there is one update every month on the 18th.
Hey everyone, it's time for the monthly project update.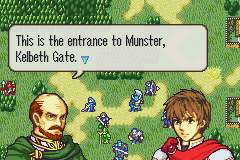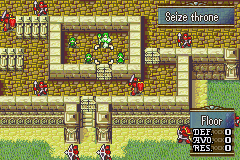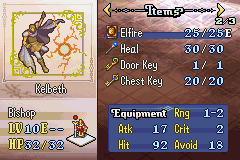 Chapter 3 is finished and Chapter 4 is probably over 50% finished. I still need to finish the dialogue for chapter 4, along with a bug relating to a routine to make sure that units are always dismounted at the start of indoor chapters. The ending and mid chapter events also need to be worked on. Chapter 4 took me much longer to do than previous chapters due to the length of the chapter's text and the need for some new ASM routines.
In chapter 3, Coirpre is a priest instead of a child civilian. He doesn't join you ever in this hack, but I thought it would be a fun change.
Chapter 4 also features some big changes. One is that Jeanne will join you through Munster so that you have a healer. Another is that all your equipment goes to convoy, and the chests always contain the same, fresh new items. Finally is that instead of Lara, Daisy joins you instead. What can this mean for future chapters? What will happen to Lara? I'm sure it's easy enough to predict lol
Just as a heads up, there will be no update next month. I will be taking some more rest time over the next month to play Engage. I hope everyone is able to enjoy it!