Hi! I've been working on this silly lil' hack since last October. Very slowly.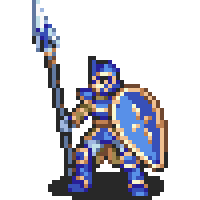 This demo is a five-chapter long Prologue with eighteen playable characters split across two armies. I plan to make at least thirteen more chapters and roughly twenty more characters after this.
Ash Blossom features a few things that make it different from GBA Fire Emblem that you should know before jumping in:
Speed is directly reduced by weight, meaning Constitution is only for rescuing.
Many units, including bosses, have Prf weapons or skills. (Not all of them, though!)
While this won't come into play for now, units will automatically promote at Level 15.
Until much later into the game (probably), money plays no role in the economy, instead the player must rely on droppable items and stealing.
You can rescue and drop in the same turn.
Download

Not available at the moment.
Screenshots




Patch Notes

Version: April 2nd 2022

Huge bug removed.
Mason's and Daphnee's growths raised.
Prelude 4 (P-4) has been heavily altered. More changes pending for the future.
New music added.
The demo will be featured in FEE3 this year, but not made publically available again until all eventing and dialogue is finished for the first five chapters.
That said, I hope you'll have as much fun with this demo as I had putting it together!