The ruins? WHat's in the ruins? How big is this update?
Blood is cooking something big… The hype grows
At this stage might aswell change the title to Sacred Trilogy, version 2.0
Just finished The Sacred Trilogy today. I love all the new features added to the hack(The Skill System, New Custom Classes, 3 branching promotion paths, infinite Dragon stone for Myrrh.
I just want to question your choice of repeating the promotion option for the 2 trainee Ross and Ewan. Do you plan to change the 3rd option to something else?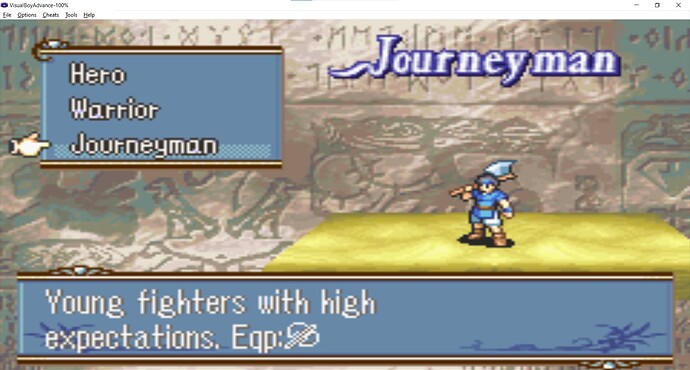 Someone correct me if I'm wrong but I think those are the super trainee classes.
I would say that replacing the Super Trainee's would be a nice move…the classes bring little to the table in terms of skills and are much behind in terms of stats. By giving them a true third branch you'd get some nice value.
Like the Wyvern Rider line for Amelia, the Mercenary line for Ross and the Monk line for Ewan would be a nice addition.
How about giving the Warlord class as Ross's exclusive third promotion ?
Better ask TactHack for that though.
I have no idea what the Warlord even is.
Final boss of Order of Crimson Arm. You should check his animation in You Tube.
Oh ok, he's kinda of a mix between PE Warrior and Berserker, allthough the double axe swing is familiar but i can't pinpoint from where…kinda nice actually, allthough he'd work better as a Zerker re-skin than a solo class, cuz lord knows that class needs a alt-sprite and animations badly.
Also liked the Wyvern Knight with the promoted Hector style greatsword, now that was a treat to see.
Though i doubt Blood would do such a big change as he implied he's at the end-ish stages of producing the update and given how much stuff we threw at his lap, he'd have his hands full with implementing half of it. xD
On top of the fact he's hitting the wall with memory limit. Granted with some of what he knows now he could theoretically go over everything again and see what could be simplifed/made less memory intensive.
However that would take time, plus considering he's got like 4 versions to apply all of this to.
That's pretty sensible. At this point, I think we're just pressurising Blood with more ideas. Maybe give him some time to think.
i mean he's the maker, he's not beholden to anything we throw in here. He can implement anything he wants, anytime he wants or just outright ignores us if he wants to. It's not like the ideas are gonna fly away if he decides not to put them in…worse case they can be called back anytime once we write them down. So long as it's clear that the point is to provide something new and fresh with no pressure.
What about the exp formula? The fates one is made with the cheap intention of forcing people to buy the DLC, maybe there's a way to make it better without using that abomination.
I think in one of the recent test patches put out by Blood that he upped the EXP formula a bit across the board.
If it's the basic one then it has reduced exp on hard mode and makes reaching from lv15 to lvl 20 an enormous waste of time.
Well, I can't speak for the test patch, but the older version was actually fine. Since the intent is you aren't supposed to 20/20 units until you go into the ruins.
The only unit who was completely screwed over from this was Myrrh since she was set as a promoted-at-20 unit so got ass for exp but still had her nothing bases and in exchange for making it unbreakable her dragonstone was no longer effective so she quite literally could do nothing to any enemies that even could give her good exp just because of everything being so much stronger than vanilla.
But from what I understand blood already fixed that issue.
I brought this issue here because it's a chore to hunt only entombed from lvl 15 to lv20 of the first promotion to actually get to 20/1 and it's because of the fates exp, since entombed are counted as promoted they actually give decent exp after lvl 15 but it's up to luck since there are only 1-3 of them.
I know you are supposed to level your promoted units at the ruins so there's no complaint about that.
Well, personally I don't see much of an issue here. Once you have access to floor 5 its a joke to level units. That floor in particular is flooded with both risen and entombed.