Hello, I'm new here, but I've come to share my now completed ROMhack, Fire Emblem Deity Device.
Firstly, this release is of a completed game that is playable from the Prologue to the Final Chapter. I started working on it in January of 2019, so it's been in development for a few months over two years. It was made in FEBuilder using assets from the public repository (credits are listed in the README).
I'll start off by explaining Deity Device's main gameplay hook because, if you're playing a hack, you're probably looking for something different. Magic users all have unique spell lists along the lines of Gaiden/Echoes. Magic is meant to be an ability that the caster is performing, and in gameplay terms, this means that any magic ability has infinite uses.
The three types of magic have also been reimagined. Light magic has great range but low power, Dark magic offers defensive utility but lacks range, and Anima deals effective damage to different unit types depending on the spell's element. More information on this can be found in the README.
As far as the overall game, it is not designed to be extremely difficult, while also not being turn-off-your-brain easy. Though, certain things may take some getting used to such as utilizing and playing against magic or playing against the increased range of bows (see the README).
Deity Device is also a heavily story driven game. It is actually because of the amount of text in the game that I was forced to divide it into two patches. If you've played console RPGs from the late 90s to early 2000s, then you should be familiar with multi-disc games, and the way it works is similar to that. The player will need to apply each patch to a separate FE8 ROM and start playing in the Part 1 ROM. After Chapter 10, the game will prompt the player to switch to the Part 2 ROM by renaming the .sav file to be loaded when booting Part 2. Again, more details about this can be found in the README.
As for the story, I tried to build it without frontloading too much lore and overwhelming the player. I will therefore leave it brief and say that the game begins with a young noblewoman on a pilgrimage with her band of knights, but she is diverted when her brother is kidnapped, gradually being drawn into the larger plot.
As far as story content, I don't believe that there is anything darker than what has been portrayed in Fire Emblem before, and I would say that the game would probably receive a T rating. There is some minor cursing, but you won't see any F-bombs.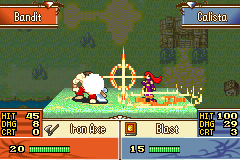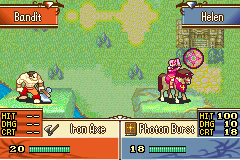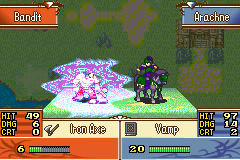 I've included the text of the README below, if you would like to check it out before downloading.
README

Hello, I would like to briefly explain a few things about this game that may not be obvious from any past Fire Emblem experience.

-About the Patches & Setting Up the Game

There are two patches in the folder you downloaded. One called "Deity Device Part 1" and the other called "Deity Device Part 2." In order to complete the game, you will need two clean FE8.gba files (obviously, just copy your ROM to get two). You will need to patch EACH FE8.gba with ONE of the patches. DO NOT apply both patches to the same ROM. In order to keep straight which ROM is which, it is recomended that you rename the ROMs to something that will let you know which is which. You will start playing in the ROM that was patched with the Part 1 patch. After Chapter 10, the game will prompt you to start playing in the ROM that was patched with he Part 2 patch. In order to do this, you must find the .sav file with the same name as the Part 1 ROM and rename it to match the Part 2 ROM. If you are completely new to this and do not understand the previous sentence, then you should know that your emulator will generate a .sav file when you start playing, and it will be in the same folder as the ROM. What I just described is (what I predict) will be the way that most users will transition to Part 2. However, what you need to do may be different depending on how you have your file's organized on your computer. For example, it is possible that your Part 1 and
Part 2 ROMs have the same name and are in different folders. If this is the case, just move (or copy and paste) the .sav file from the Part 1 folder to the Part 2 folder. Basically, your .sav file must have the same name and be in the same folder as your Part 2 ROM in order to continue playing.

Another thing to be aware of is that, because I was forced to release Deity Device as two patches, it cannot be completed on repro cartridges and other media for playing on original hardware unless you possess devices that can extract and insert save data to and from cartridges. A Part 1 cartridge could not make progress beyond Chapter 10, and a Part 2 cartridge would be completely unplayable without save data from Part 1. Keep this in mind before deciding to create/commission any such thing.

-About Magic

Deity Device's magic system is the most significant gameplay change from vanilla GBA FE. Firstly, each playable character who can use magic has his or her own set of learned spells (think Gaiden/Echoes or Three Houses if you're familiar with those games). This is done by all magic being locked to a specific character. Even if two characters learn the same spell, the spells will not be interchangeable. Spells do not have limited durability like weapons because they are meant to be abilities that the character can perform inately rather than an object that the character is drawing power from (for gameplay purposes, spells are still represented as items in the character's inventory. Spells are learned through a variety of methods: main story events, engaging in optional Talk Events with other characters, sidequest rewards, and visiting churches (this mechanic is explained in game when it first becomes relevent, but basically, when there is a church on a map, mages can visit it to see if they can learn a spell) are all methods through which spells can be learned.

For balance purposes, the Trinity of Magic/Magic Weapon Triangle was removed. This is due to a combination of enemy distribution and that each school of magic is designed to fill a specific gameplay purpose. The three schools of Anima, Dark, and Light magic have been reimagined both in terms of story and gameplay. Dark magic is defensive, often giving defense buffs or draining health, but it typically has low range. Light magic has great range and often high crit as well, but it has low base power. Anima magic is limited to specific individuals for story reasons, and each element deals effective damage to a specific type of enemy:

Fire is effective against infantry (anything that uses a weapon and is not armored or mounted such as a Mercenary or an Archer).
Lightning is effective against armors.
Wind is effective against fliers.
Earth is effective against cavalry.
Ice is effective against mages.
Water does not deal effective damage but pierces resistance (though note that the Aqua Edge spell functions like Lightning, dealing effective damage to armors and not having a resistance piercing effect).

Some spells may be multiple elements. For example, the Eruption spell is both Fire and Earth, and so, it it deals effective damage to both infantry and cavalry. A unit may also have multiple weaknesses. Any horse mounted magic user will be weak to both Earth and Ice.

-Additional Notes about Staves

Staves do not obey weapon locks like other weapons. In order to realize my idea of characters having unique spell lists, I was forced to put additional restrictions on staves. Staves cannot be removed from a character's inventory through normal means (trading, depositing in the convoy, or discarding). This is not perfect, and there is an exploit in that a Staff may be sent to the convoy if a character with a full inventory obtains an additional item. I strongly recomend against attempting this exploit. I have given each Staff a hidden weapon rank. GBA Fire Emblem actually has 251 individual weapon ranks with each point of weapon experience being an individual rank. It only happens that, in the vanilla game, only the values corresponding to the lettered weapon ranks are used. That being said, it will not be obvious who may or may not use a Staff other than its intended owner. No Staves give weapon experience and any character who is meant to use Staves is set to a specific experience level. And having an unintended character withdraw a Staff from the convoy will still lock the Staff in that character's inventory until he or she can get rid of it by acquiring a sixth item. That is all to say, please do not try moving Staves to characters other than their intended owners. It could cause such problems as leaving the player without a healer until there is an opportunity to aquire an item.

-About Classes and Promotions

Most of the classes that use physical weapons are the same as vanilla, but there are a few things to note:

Fighter and Warrior are not in the game. The Pirate class was renamed to "Ruffian" in order for it to not be strictly nautically themed, but both Ruffian and Berserker retain their ability to traverse water tiles.
Great Knight is also omitted, but Paladins regain their ability to use axes fromt the Elibe games.
Thief will promote to a class called Hunter. It retains all unique Thief abilities. The player will not need to worry about Thieves losing any abilities through promotion.
Wyvern Lords may wield Axes instead of Swords in order to differentiate them from Falkoknights.
Myrmidon is the only class with a branched promotion, having the option to promote to Swordmaster or Ranger. All other base classes will automatically promote to a preset promoted class when promtion is triggered.

Magic classes are quite different from vanilla. Setting aside unique classes, there are six magic base classes:

Light Rider is a mounted user of Light magic.
Dark Rider is a mounted user of Dark magic.
Sunrise Mage is able to use both Light and Dark magic but specializes in Light.
Sunset Mage is able to use both Dark and Light magic but specializes in Dark.
Deacon is a mounted user of supportive Staves.
Hex is a user of status inflicting Staves.

The promotion items have been slightly reworked. The Ocean Seal and the Orion's Bolt have been removed. In general, infantry units promote with a Hero's Crest. This includes the Thief and Ruffian classes. Knight's Crest users are unchanged (Cavaliers and Knights). Fliers still use an Elysian Whip. However, the Guiding Ring is not in the game, and instead, magic users promote with either a Sun Ring or a Moon Ring. Which classes need which ring are named in game, but I will name them here as well. The
Light Rider, Sunrise Mage, and Deacon use the Sun Ring, and the Dark Rider, Sunset Mage, and Hex use the Moon Ring.

Aside from that, all of the main story characters promote through story events. There are two other units who will promote through story events in unlockable sidequests.

Promotion bonuses are generally quite high, more in line with the SNES Fire Emblems than later games. However, these bonuses generally focus on stats that a given character is unlikely to grow. For that reason, promoting early may stunt a character's growth in their strong suits. And while timing of promotion is entirely up to the player, regularly used characters can easily reach 20/20 without grinding.

-About Sidequests

There are eight unlockable sidequests that have specific conditions and possibly require taking certain actions in the previous chapter in order to be unlocked. Meeting the criteria to unlock a sidequest will automatically take the player to it like in FE6 and FE5. Not all chapters that contain an x are unlockable sidequests. Some are mandatory chapters that have the story briefly switch to another character's perspective (like Chapter 5x in vanilla Sacred Stones). Sidequests have some of the non-main characters step into the the starring role for a brief time. Therefore, specific sets of characters must be alive to reach each sidequest, and it will result in a Gameover if those characters die during their sidequests. Sidequests are typically necessary to outfit characters with their strongest spells or gear, and two characters will not be able to promote without reaching their respective sidequests.

-About Supports

All supports have a growth of ten points per turn because I know that players who want to build supports will idle on seize maps in order to build them up anyway.

Support bonuses are unchanged from vanilla.

-Other Mechanics and Gameplay Elements

Bows have had their range buffed to 2-4 (the Silver Bow is 2-5). The Iron Bow has had its base attack buffed to match the Steel Bow, but it does not deal effective damage to anything.

There is a set of 1-2 range Swords (Iron Knife, Steel Knife, and Silver Knife) that can only be used by Thieves and Hunters.

Promotion items can be bought from regular venders.

Characters come with unique skill builds along the lines of FE4 and FE5.

There is an FE5 style Leadership system. For those that do not know what this is, certain characters have "Leadership Stars" noted on their status screens. Whichever army has the most Leadership Stars gets a small passive boost to hit and avoid for each star that it has more than the opposing army. This boost affects all units of the army with more Leadership Stars.

There are many extra Talk events in the game with only a few chapters not having any. Most of these are just to expand on story points that may not have fit into a main story event or to give non-main characters a chance to weigh in on what has been happening. However, some yield items or spells or are necessary to unlock sidequests. A character's status screen will name characters who he or she is able to Talk to in a given chapter. However, this display does not take into account any prerequisites that a conversation has. Sometimes a conversation is not possible until certain other events have been viewed, so keep this in mind. During movement, characters who can be spoken to will have speech bubbles displayed over them. These only display if a conversation will actually be possible.

There are general quality of life improvements such as being able to toggle stats and growths on the status screen with the select button, and the Talk and Support commands will not consume a unit's turn. Enemies will also have markers indicating high crit weapons or effective weaponry when the player is moving units. Also, support compatibility may be viewed at any time by opening the status screen and pressing the L button (this is not referring to the character status screens but rather the screen reached by selecting "Status" on the menu that appears when selecing an unoccupied tile).

-Known Bugs

None of these are gamebreaking, and most are harmless graphical hiccups.

Rarely, the critical hit animation of the Crusader class will appear glitchy. This seems to happen after dodging an attack while in melee range, but I can't find any issue with the class's animation script that would cause this to happen.

The Guardsman class will never display the full animation when targeted by a status staff, and the map animation will always be used regardless of settings.

Glitchy pixels appear before any story promotion. Again, I'm not sure what causes this as I have the event script set up the same as when Eirika and Ephraim promote in vanilla.

The Spell Sculpt skill can cause a game crash in specific instances. This skill gives +1 range to all spells. If a character with this skill targets an enemy with the Nihil skill (disables all enemy skills) from maximum range (a range that utilizes the +1 from the skill), the battle forecast will display all zeroes for the player's attack. Confirming the battle will carry out the battle with the useless attack. Backing out (pressing the B button) will crash the game unless the unit has a spell that can target the opponent without needing the skill. This crash most likely occurs because the game applies Nihil, and after backing out, the player should be taken back to weapon selection, but the game does not find any valid weapons. Thankfully, this crash is not dangerous as resuming the chapter will return the game to the state before the selections that triggered the crash occurred. Nihil is only on a handful of bosses and is not something that must be constantly watched for.

-Closing Remarks

That covers everything that I can think of at the time of release. I would like to express my thanks to everyone who develops utitlities and assets for use in ROMhacking. It's because there are so many things made available that someone like me who doesn't know anything about coding and isn't much of a graphic artist could put together a functional game like this. With that, I hope that if you read this far, you will enjoy experiencing my game.

-Credits

Battle Animations: FEGirls; Mikey Seregon; Aviv; GabrielKnight; Skitty; Seal; Sacred War; Eldritch Abomination; N426; Leo_Link; L95; flasuban; Lisandra_Brave; DerTheVaporeon; Pikmin1211; Teraspark; Nuramon; Jj09; Aruka; Kenpuhu; Blademaster; Shin19; SHYUTERz; Spud; TBA; seergiioo; Luerock; MrNight; Alusq; Maiser6; Mycahel; Alusq; ZoramineFae; Temp; sniper_zero; St jack; Feaw; Team SALVAGED; Leo_link; Ayr; Arkth; SqRtofPi; Sme

Map Sprites: HyperGammeSpaces; Unknown; RobertFPY; Alusq; Teraspark; Leo_Link; L95; Ash3wl; Dominus_Vobiscum; Pikmin1211, Nuramon, DerTheVaporeon; Smug_Mug; Author_Pendragon; RobertFPY; Ayr; Seal; Ryn; Eldritch Abomination

Music: SurfingKyogre; A_Reliable_Church; Dolkar; MrGreen3339; Pikmin 1211; SaXor_the_Nobody; Sme; GratedSchtick; Mycahel;

Spells: Bonzai; Blazer; Alusq; BwdYeti; Mikey Seregon; Sme; 7743; SHYUTERz; HIROTO; MisakaMikoto; Compile; Seal; Sacred War; Arch; Orihara_Saki, Bonzai, Blazer

Skills: SHYUTERz; Mikey Seregon; Mariode

Patches: Argo; 7743; Brendor; circleseverywhere; Kaito; Stan; Tequila; Hextator; Circles; Zane; ipatix; Scraiza; Monkeybard; Black Mage; Blaze; Rossendale; StanH Leonarth, Teraspark, sd9k, Kao, blademaster, Snakey1; Primefusion; Alusq; Gryz; Aera, Blazer

Portraits: Shin19; Blade; CapibaraInSpace; GabrielKnight; Zarg; MonkeyBard

Class Cards: Melia; Pikmin 1211; Eldritch Abomination; L95; Unknown; DerTheVaporeon; Ghast; Seal; ZormineFae
With all of that said, I don't think there's anything left other than to say thank you for reading this far, and I hope that you will give my a game a try and enjoy it.
The Download Link is:
The link below will allow you to download the newly balanced version of Part 1. The most noteworthy change is that spells now have limited uses per chapter and refresh before the next battle. Please note that save data from this patch will not work properly with the currently available Part 2 patch. If you want to finish the game without waiting for me to finish updating Part 2, then please play the initial release.
Change Summary

Global Changes

-Spells now have limited charges per chapter. They will refresh between chapters even if they "break."

-Staves are no longer glued in a character's inventory and can be freely moved around.

-Most units have had their movement buffed by one. Foot units have six movement with no movement gained from promotion. Mounted units (including fliers) have eight move at base and go up to nine after promoting. However, mounted mages have not had their movement increased.

-Enemies have had their growths increased to some degree. This is generally an increase to a class's archetypical stats (speed for infantry swords, skill for archer, etc.).

-The Iron and Steel Bows have had their range reduced to three. The Iron Bow has had its might lowered (it equaled the Steel Bow before), but it still does not deal effective damage to fliers.

-The basic ballista has had its maximum range reduced from 15 to 10. It still does not deal effective damage to fliers.

-Enemies that do not move should now have their threat ranges reflect that. This is something that needs to be set individually per enemy, so let me know if you think I missed one.

-Bows have been added to various Armories.

-I fixed an issue where the Dawn mage class would be worth very little experience when defeated and Gregory would gain experience very quickly when promoted.

-There is a new recruitable unit, Vincent the Archer. He has supports and a handful of conversation events added to the game.

Character Changes

Calista

-Calista now starts with Barrier.

-Calista learns a five range multi-heal from the church in Chapter 9 (she still learns Eruption as well) to address concerns about there only being one healer in Chapter 10. I always thought that it was fine because Luke learned a long range healing spell in the previous chapter, but now there are two healers available. Calista's strength base and growth have been increased because healing scales off of strength.

-Quake, Aqua Edge, and Indignation (not available in Part 1) have all had their range increased by 1.

Arachne

-Arachne no longer has the Lifetaker skill.

Luke

-Luke now learns Torch in Chapter 2.

-Learning Bless no longer removes Mend.

Ivan

-Ivan's starting level was increased from one to three with his bases increased accordingly.

Lucy

-Lucy now has a different promoted animation that was easier to repalette but still has a knife throwing animation

-Lucy's PRF weapons will now be repaired between Part 1 and Part 2 like the other characters. This won't be seen in this patch, but it's worth noting.

Victor

-Victor's starting level was increased from one to four with his bases increased accordingly.

Bertram

-Bertram now starts with a Paragon Sword. This will double EXP gain when it is equipped. It isn't a PRF weapon.

Gregory

-Gregory's starting level increased from five to eight with his bases increased accordingly.

Chapter Changes

Chapter 2

-Luke will learn Torch at the start of the battle.

-An enemy will drop a Torch item.

Chapter 3

-I fixed a misplaced target for enemies raiding villages.

-I removed the Thief's Lockpick, so he will go for villages rather than prioritizing opening doors. The thief now appears slightly later.

-This is now a defeat boss chapter instead of a rout.

Chapter 4

-The cavalry reinforcements have been removed.

-There is an optional objective to take a fortress in order to lower the bridge that leads to the boss. There is new story text to explain this.

Chapter 5

-Vincent joins at the beginning of the chapter.

-There is now an alternate way to clear the map. If neither side door is opened by the end of turn 6, the battle will end. If you want to play it the original way as a rout map, just let the enemy thieves open the doors.

Chapter 7

-Player units start further to the south.

-There are fewer fliers, but the the fliers accompanying the bosses are much stronger.

-The cavalry reinforcements come earlier to accommodate the changes. There is a one turn warning before they appear. It's probably possible to finish the chapter before they appear, but it would be pretty difficult.

Chapter 8 AKA The One Everybody Hates

-The boss will now only be able to use sleep on odd numbered turns. This is pointed out in a newly added dialogue sequence.

-The boss's magic has been reduced.

-The boss is now immune to ranged attacks.

-An Energy Ring may now be stolen from the boss instead of a Blue Gem.

-Two enemies will drop Pure Water, and one will drop a Torch.

-Arachne will now warn Calista at the beginning that seizing the magic circles will probably cause reinforcements to spawn. I thought it was pretty obvious that enemies would appear as more of the map opened up, but I got a lot of feedback crying ambush spawns, so there you have it.

I know that that doesn't sound like a lot of changes, but I don't think I was given credit for all of the fair things in this chapter because people were so frustrated by it. I only gave the Bow Skeletons Iron Bows so that Olga wouldn't run into effective damage in the dark, and Calista warns Lucy about the traps on the doors. The Player may now judge whether it's better to wait outside of the boss's range until the following turn or risk entering it and getting put to sleep.

Chapter 8x

-The enemies are now spaced further apart, and most of the ranged weapons have been removed.

It completely caught me off guard during testing, but the increased movement of the enemies turned this fairly simple chapter into absolute hell, hence the change. Cosette would get surrounded and killed if she moved slightly out of the starting area. This made it either require good RNG or require making it an Orville solo with the Earth Sword in order to get through it.

Chapter 9

-Ceres's cavalry is spaced further out among her area of the map.

-An oversight where Ceres would not despawn if her castle is seized without killing her and the following event was skipped has been fixed.

-The church has moved to the east side of Cronus's castle.

-The enemy makeup of Cronus's part of the map has changed. There is now only one Hex.

-The area of the map between Cronus's castle and the village is more densely forested.

-The village now gives one of each Killer Weapon instead of only a Killing Edge.

-The village will face attack after entering Cronus's part of the map.

-The enemy makeup of Cybele's part of the map is completely different. The enemies are more aggressive, and there are no status inflictors. The Sleep users in the original design were meant to discourage turtling by forcing a charge to get rid of them, but everyone seems to turtle harder when they see them, so I changed it.

Chapter 10

-There are fewer Snipers but the same number of enemies overall. This is to make fighting in the small rooms less restrictive.

-Reinforcements that appear after reaching the switches have changed to a single strong enemy instead of several weak ones.

-An oversight that could potentially cause the switches to activate if the Generals on top of them attack and are not killed by a follow up has been fixed.

-The monster bosses will no longer move on the first turn after both switches have been activated. They will appear like they can move on the first turn because setting them as non-moving enemies will not allow their AI to be changed. This is an engine limitation as far as I know.

-The Accurseds will no longer move.

-Tartarus will lose his Sleep spell if a player unit enters the throne room or the stairs leading to it. This is to make him more aggressive.

My Impressions

Probably the biggest thing that I noticed was that the increased enemy stats made Calista's ability to delete most enemies regardless of speed feel like an important part of my army rather than something that was just there, and her increased movement and range (I have no idea why I ever thought Quake needed to be one range) make it easier for her to get into the fray. I think that this is a good change because a lot of players seemed to regard Calista as a unit that gets carried around for seizing.

The limited spell charges didn't factor in much to the way I played. I had Helen gain eight levels in Chapter 9 without running out of spells, so it will take a very well reasoned argument to make me agree that I didn't give the player enough uses of each character's magic. The only time I ever felt in danger of running out was Gregory's Benedictions in Chapter 8 because he couldn't really use Vamp.

Vincent doesn't feel like he makes a huge difference, but he has a strong matchup against Pegasi, which can be annoying for quite a lot of the player's units, so that's something. He was strength screwed while I was testing, but gaining the Killer Bow in Chapter 9 gave him some nutty crit rates alongside his duel Lightning support with Lucy.

Ivan is now really strong right when you get him and doesn't feel like he needs to be fed some kills to gain speed.

Overall, I think the experience has improved with a handful of chapters feeling faster to play through.
You can click this link to download guides for the game. There is a guide to all of the missable stuff in the game as well as a guide with my thoughts about the characters. Beware of spoilers if you are a new player. There is also a patch that can be used to view the fully unlocked support room. This patch is not currently suitable for playing the game, but you can view any supports that you may want to see. I would not recommend viewing the supports this way until you have completed the game.