I think she needs to visit a house in Chapter 15, if I remember correctly.
Nice. I'm on Chapter 16 and still have a save file for 15.
Oh man, i can't wait to play this, very cool
Hey there, just wanted to say rather enjoyed reading this, your unit experience sounds pretty rough but im glad the game was still beatable at least. Also I'm super flattered that chapter 13 was your favourite (this was the chapter I made), seeing that absolutely made my day and I'm glad you enjoyed it!
Also very amused that you put Burdock as high as B given in the dev team I think he's like consistently D lmao, and also every time I see Josie on an endgame team I weep with joy.
Overall though really glad you had fun with the project, stuff like this makes it really worth working on!
Just wanted to say thanks for all the feedback, all very informative stuff and glad to hear you enjoyed the hack! Gotta say yeah for endgame that Kuijia is pretty sad looking lmao, no wonder it didn't give the best impression lmao
Seeing endgame teams like this is always very insightful and the little review of each unit helps a lot too.
Also I think the fact you enjoyed the story is really pleasing to hear, its definetly a difficult format to tell a coherent story so I think its really rewarding to know its enjoyable
Also thanks for the bug reports and the like, as well as to everyone whose been posting bug reports in the thread, theyre all really helpful!
Hey all,
Thanks again for playing and sharing your feedback. Super cool to read reactions and see which units everyone used.
The team worked on making fixes from the bugs reported and other small issues. A new hotfix patch is available in the first post that remedies these issues.
Ok, can someone please explain how you're supposed to recruit zain. I got him to survive till chapter 18 and once he spawned nobody could talk to him and so i couldn't recruit him or speak to the spirits. Speaking of chapter 18 who thought two bosses weapons were ok?
It doesn't matter if you kill him or not, he will appear in each of his chapters regardless… Zain cannot be recruited, sorry
then why is there an event in the Builder to recruit him?
EDIT: OH FOR THE LOVE OF…
Summary

you have to take the Burst of Knowledge AFTER he spawns…
there is no way you are suppose to have ANY idea that's what to do.
Oh really? Here I thought I was right, nice figuring it out!
granted that only turns him green, I don't know what triggers the actual recruit convo.
its actually bothering me. I'm starting to think he might actually BE unrecruitable but only because whoever set the event up didn't set a flag to mark the even trigger to activate after he's turned green.
edit: yeah If I'm reading this script right (which I doubt I am) there is a hire style event set but has no checks for the unit to state for him to be hired causing the event to not occur rendering zain unrecruitable.
well after doing some digging and asking around it seems like there IS a flag turned on at the start of the chapter that prevents the convo from be used. wither or not that is intentional is up in the air though.
Thanks a lot guys, thoroughly enjoyed playing through it. And yes, chapter 18 was really difficult and unique.
My tierlist: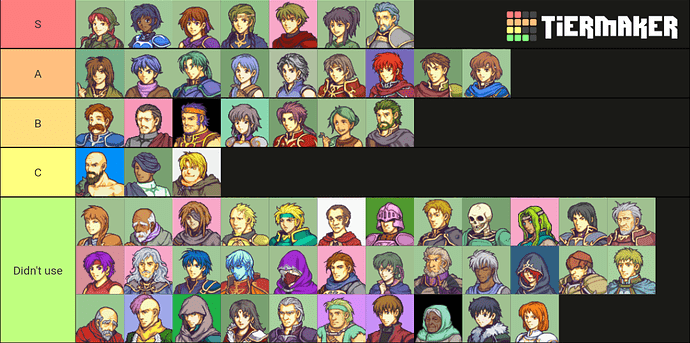 Loading my final list of characters would be difficult (painful) but basically, josie was my one man army.
PS: God damn i hate you for teasing us with zain like that
PPS: Will there be V2? :/:
Josie at the top of S tier? fuckin based, love to see it
Genuinely never expected people to use her lmao, glad she served you well
As for a V2 afaik there aren't any plans, just been fixing any bugs as they come up, this was always intended as a one and done project and I haven't seen anyone mention attempting it, but can't write it off entirely
Thanks again for playing though, really glad you enjoyed it!
I had a very screwed Josie and I still used her bc fliers are crazy strong in this hack. Levis Lancea and relatively few ballistae really help them run wild.
Are you telling me I wasted uses of stone to avoid killing this guy for nothing?
Pretty much yeah. Granted i have one last thing to test.
Call of the Armor is a great representation of what collaborative efforts can achieve. Each chapter was really enjoyable to me and it was interesting seeing what each dev planned for their chapter. I particularly enjoyed the scenes with Kilian, Alair and Venus. I was definitely not expecting their promotions! Anyway, I'm a very poor reviewer and quite lazy as well, so here is my endgame team I used and great "hackrom" Team Distant Roads (:
Endgame Goons

















Finally finished! That was a very enjoyable experience and I'd like to congratulate all the participants that made it, neat game, impressively cohesive given the developing premise.
I think a project like this is great to experiment with ideas, mechanics, character design, and i think you guys accomplished that pretty well, and even the story, given all the restrictions, did not detracted from the enjoyment, a thing that many, maaaaany hacks suffer from, trying to be overly melodramatic, or serious, or humorous, i think the story here was just sufficient enough to not get in the way of the enjoyment and flow of the game and still gave memorable, fun to use characters. (kinda sad about Gu… the guy deserved better…)
I really hope that more things like this are made, and that it inspires other creators to do different things, specially in terms of characters, I'd love to see more monsters, and unusual looking playable units.
And i know it was decided in development to just use the basic settings for uniformity sake and facilitate the process of making the game, but it would be awesome to see something like that using skills, updated animations and sprites and so forth.
Anyways, thank you for the fun game.