(I promise that this is a placeholder name)
What is this?
This is part 1 of a FE8 romhack I have been working on since December. Part 1 features 11 chapters with 4 side chapters and 39 new characters in a completely original story set on the continent of Rechul following the coup of the royal family of the Kingdom of Balyra. It is titled Attempt 3 as it is my 3rd attempt at a romhack that is to my liking.
At this point I need playtest feedback on part 1 of the hack and with that motivation to dive into part 2.
Features:
SkillsSystem (though the number of skills in this hack is relatively low)
Str/Mag Split
Splitting your army into smaller units for spilt chapters
Daggers, shields and ring items
Trainee units and unit flexibility
Maps with dynamic objectives
A plethora of new classes and items
QoL stuff
Secrets
Lots of balance changes
A more punishing magic triangle ±20 to hit and ±2 dmg

Anima triangle (Wind>Thunder>Fire>Wind) with water as neutral
Light is effective against monsters

Map palette changes
Third faction green units (sometimes)
A lot of other features!
Difficulty:
This hack is significantly more difficult gameplay than FE8 (which is not that hard to do, but worth pointing out).
The hack is meant to be played on normal mode
Easy mostly normal are the same, but on easy mode causal mode is engaged and you get access to two jaigen units who will help you out from chapter 2 onwards.
Hard mode is still in development and only Ch.0 and Ch. 1 have a hard mode.
I think this hack is ironmanable, but like what do I know, I don't ironman things.
Other Stuff:
Weather events mostly doesn't affect infantry units, but do affect mounted and flying units more severely.
Support range is increased to 2.
Skills:
Each character has a personal skill
Trainees all gain a skill at level 10 and the skill is unique to the specific trainee character, so you can think of it as a second personal skill
Most T1 foot-locked classes have a movement skill (shove, smite, pivot, etc…) learned at level 1
At level 10 T1 classes learn an additional skill
T2 classes learn skills at level 5 and level 15
Bosses/named NPCs will also have personal skills.
Some weapons and/or items grant skills when equipped.
Story:
This hack tells the story of a group of young villagers, brigands, mercenaries and other miscreants recruited by a squire to fight to restore the royal family to power, as they make their way to a resistance stronghold.
The first chapter of part 2 is also included which tells the story of the fall of the royal family and features the prince of the royal family as the main character.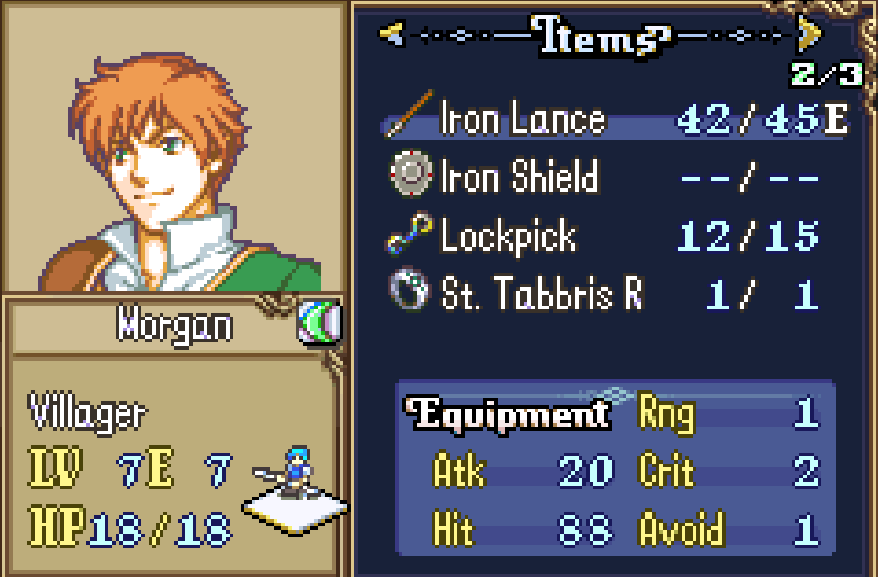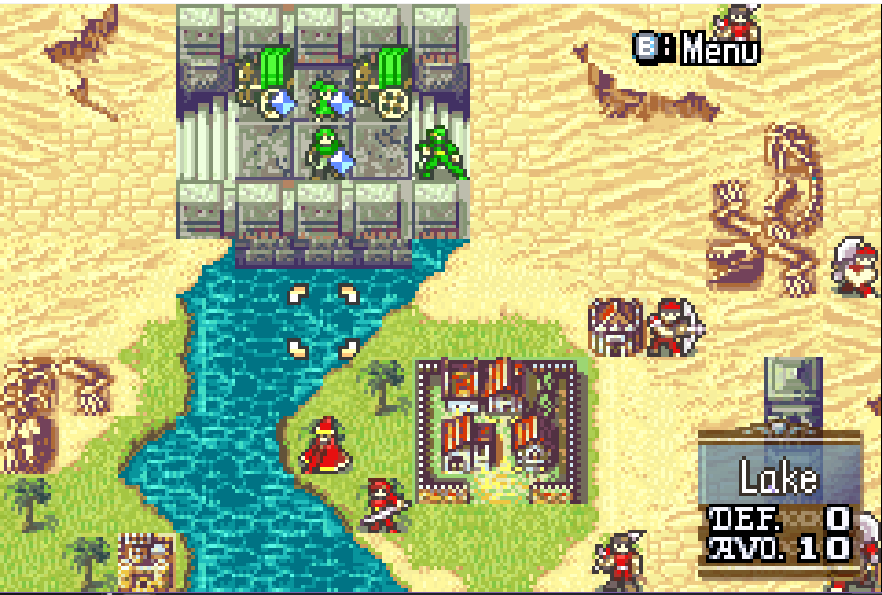 Future Plans:
Continuing the refinement of the hack and adding paralogue chapters as I go
Support Conversations
Known Bugs:
Thieves can steal from party members. This is a bug from the "Allow the player to steal from NPCs (green units)" patch. I'm unsure how to fix it/if it needs to be fixed.
Recruitment Guide (beware spoilers)