Just a little something I started working on after discovering FEBuilder/recovering from COVID back in February. Most of the changes were probably palette in nature, but I did fiddle with a bit of everything, and had many fun crashes and faults along the way to something that I hope is a polished patch. (It doesn't stutter on my PSP emulator, one of the far pickier ones for patches that I've seen.)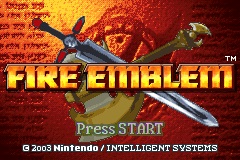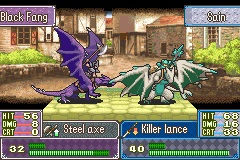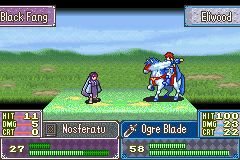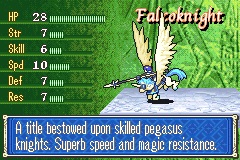 Ideally I went about trying to stabilize out some of the bad randomization that can happen while making it overall harder by leaning into better HP and Luck on both sides and making weapons feel like more of an upgrade to compensate for the former.
Lots of changes (Including QoL stuff patched in), but some highlights to look out for;
Max level is 30, and promoting doesn't reset level.
Increased the Speed required to double by 1. Bartre almost becomes playable!
Weapon endurance adjusted, typically lower, but recruits start with more weapons. The idea is to break some people's tendency to never use special weapons and to give each new recruit a little more flavor and usability right out the gate. No Iron Supremacy.
All hardmodes have the +5 level growths, and enemies in hardmode carry Earth Seals instead of the normal promotion items to give experienced players a much broader option pool.
Most shops have been tweaked, especially Secret ones.
Download : https://drive.google.com/file/d/16Ewg4HaX1WToblI_jWGZ0Vcx1cC6V5eN/view
While I'm marking this as complete, I would appreciate feedback to further tweak it because I have one last sweeping change I want to make with adding weapons. Personally played HHM so Normal and Eliwood route feedback would be pretty valuable in particular.
Credits :
Eliwood Lance by Spud
Nomad Trooper Melee Range fix by ltranc, Valak
Shaman [F] magic fix by Shin19
Wyvern Rider and Lord Axe animations by TheBlindArcher
Hero Linus Heavy and Swordmaster Lloyd by Greentea
Raven Blue Shield by Swain, Pikmin1211, ltranc
Thief Catgirl by Sme
Lyn Blade animations by Moocavo
Heavy Infantry animation by Nuramon,
Female variant by ZoramineFae.
Travant mug by Atey
FE11 Regalia icon 002 by LordGlenn
Brave Bow icon by 2WB (Dragonbow)
Killing Axe/Lance/Edge and Heavy Lance icons by Zelix
Killer Bow icon by Celice (Bow 5)
Dark Sword based on authenticmaniac's Venin Edge
Wind Sword by Ereshkigal (Katana 6), Regal Blade (Blade 6), Durandal (Blade 22)
Ogre Blade/Lance/Axe/Bow based on Tactics Ogre KoL sprites
Thani, Dark Axe/Lance/Bow, battle/map sprite repalettes, map edits/repalettes by me