What if you wanted to enjoy an FE6 rebalance but found PE's changes too drastic for your tastes? What if you wanted to enjoy an FE6 rebalance but wished for something more than simply unit changes or slight map changes?
Well this is the hack for you!
Welcome one and all!
This is a post about an FE6 hack that I've been working on for quite a while now that I have creatively (and very originally) called Project Sienna.
Now, I know that the topic of rebalances and trying to recreate FE6 is something that has gotten quite a lot of traction recently and people are probably getting tired of it all, but I promise that this is not your ordinary "rebalance" that a lot of you might expect (in all honesty the only reason I tagged this hack as a "rebalance" is so that it can get more attention and its an easy to apply tag). In fact, Project Sienna is a lot more akin to a revamp of the original FE6 experience than a strict rebalance.
Trust me, I've seen my fair share at attempts to create FE6 rebalances over these past few months, and while I commend and respect a lot of them for what they're trying to achieve, none of them have truly touched on the soul of what I would envision an "improved" version of FE6 would actually be like.
Hacks like the godfather of rebalances, Project Ember, or the FE6 remake in the FE8 engine have all solid attempts, but I felt they missed a lot of the core of what made FE6 play and feel like FE6, and in general in my opinion they went a bit overboard in some aspects. Things like the overloaded amount of personal weapons for instance was something I was never a fan of, and the FE6 remake had strange balancing decisions that just made me tilt my head in confusion.
On the other side of the spectrum, some of the FE6 hacks I've seen that tried to go the opposite approach either only work well as a good starting point or didn't do enough to try and change many of the aspects of FE6 that a lot of people had problems with, like annoying map design still being mostly present or most units still being barely usable, or perhaps even the most shocking of all being character nerfs, which I personally despise. I think its a time for a hack that bridges both of these extremes.
Introducing, Project Sienna! An FE6 hack that is more akin to a revamp of the original rather than either a rework or a rebalance. It is a hack that aims to find the best sweetspot it can between too much change or too little change that still plays like FE6 and still feels like FE6 while overall making the experience more enjoyable and streamlined.
Unit wise I adore the minimalist way of unit balancing. The only thing I changed about units are base stats, weapon ranks, and starting inventory.
Here are some of the things this hack will include:
Buffs to most player units
Increased hitrates (and altered weapon stats)
Faster supports
Improved map layout and map design
Better difficulty curve (easier earlygame, harder lategame)
More promotion items
Earlier Roy promotion
Revamped visuals.
Here are some things however that this hack won't include:
Character nerfs
Personal weapons (except for Roy)
Growth rate changes
Returning characters
New classes
Original characters
Major story changes
Altered promotions
As I said at the beginning of this, I want this hack to at its core still feel like FE6. A lot of people probably won't enjoy it or agree with it and that's totally fine. You're entitled to your own opinion. Especially the lack of changes to growth rates, I think a lot of people will dislike how I didn't change any of them, but I'll just say that it's surprising how much you can do with just bases and weapon wranks.
There will also still be clearly better characters than others. I enjoy FE6's imbalance and I think it not only adds to the charm of the game but also gives a story behind using certain characters or not. Not every unit will be the same power level, but at the very least all units can still be usable instead of just being straight up horrible.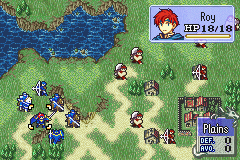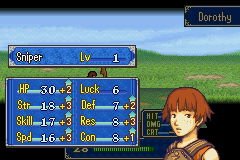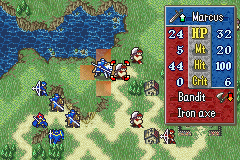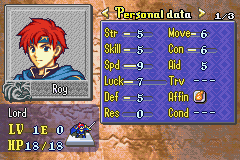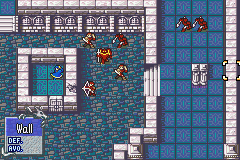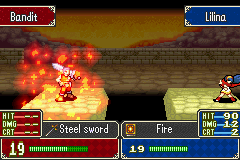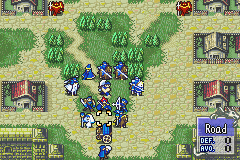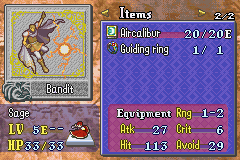 Now in any standard post this would usually be the part where I link to the ups patch and tell you guys to apply the patch to a clean japanese rom and hope you enjoy the game but unfortunately that will not be the case today.
As you probably could already tell, this hack is still a WIP. Currently I would say its about 70% done, but Ilia, Route B of the Western Isles, the Gaidens, and Endgame have still yet to be balanced and fully playtested. The hack is still in its alpha stages and is currently being playtested as of this moment. I'm sorry for anyone who got their hopes up but I want to deliver the best gameplay experience of FE6 I can and I won't release anything to the public without me being fully satisfied in what I've got planning.
That being said, I did want to start marketing my hack and I hope this post has ignited your interest and it spreads to more people. This has been a completely solo project and I'm just glad I finally got around to announcing my hack on a public forum. I hope you'll all be anticipating and excited for when I've finally got everything complete and ready to go!
See you all soon and have a great rest of your day.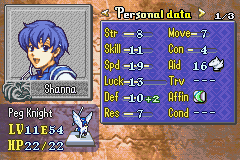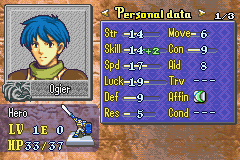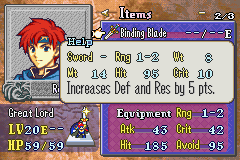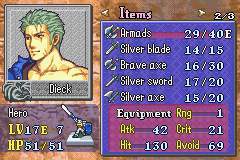 Detailed Unit Changes (as of Alpha v0.25)

Units not listed here have been unchanged. Not a single growth rate has been changed.

Roy:

+2 speed
Starts with an Iron Sword
Promotes at the end of Chapter 16
New promotion gains into Master Lord: +3 HP, +3 attack, +3 speed, +4 skill, +5 defense and resistance, +2 con

Marcus:

Starts with Steel Blade, replaces Iron Sword

Wolt:

Bors:

+4 hp, +2 skill and +2 speed
Starts with an Axereaver

Ellen:

Wade:

+2 attack, +2 skill and +1 speed

Lot:

Lugh:

Chad:

Saul:

Starts with an Unlock staff

Dorothy:

+4 attack, +3 skill, and +2 speed
Starts with an Iron Bow

Sue:

Zealot:

+2 defense
Starts with a Tomohawk, replaces Steel Sword

Treck:

Noah:

+1 to all stats and +8 resistance
Has C rank Swords and Lances

Lilina:

+2 hp, +2 magic, +2 speed, and +2 defense
Gets C rank Staves upon promotion

Wendy:

+2 attack, +4 skill, and +4 speed

Barth:

+10 hp, +2 attack, +6 skill, and +2 defense
Starts with an Axereaver

Oujay:

+1 speed and +6 luck
Starts with a Lancereaver

Fir:

+1 attack and +1 speed
Starts at level 3

Geese:

+3 attack and speed and +4 skill

Echidna:

+1 attack
Starts with Killer Axe, Hand Axe, and Steel Sword, replaces Iron Axe

Bartre:

Raigh:

Cath:

+8 attack, +8 skill and +6 speed

Igrene:

Now joins in Chapter 13
+2 attack, +2 skill, and +1 speed
Has no movement penalty in the desert
Starts with a Torch

Sophia:

+5 hp, attack, skill, speed, and resistance, +3 luck, and +9 to defense

Cecilia:

Now joins in Chapter 14
+5 attack, +7 speed, +9 skill, and +3 resistance

Garret:

Hugh:

Starts as a Sage
Starts with D rank Staves
Gets Hard Mode Bonuses

Douglas:

+3 skill, +3 speed, and +3 defense

Juno:

+4 attack and +6 speed
Gets B rank Swords

Dayan:

+3 attack
Gets B rank Swords

Karel:

Lowered level down from 19 to 17
Important Weapon Changes (as of Alpha v0.25)

Almost all weapons have been changed to their FE7 weapon stats which means that nearly all weapons have improved hitrates. Magic tome weight is unaffected since FE7 screws them over a lot with their added weapon weight, which is unecessary and not a good change for a hack like this. There are some personal changes to some weapons though:

Steel Blade:

All Poison weapons:

All Slim weapons:

Gant's Lance

Grants +2 def
+10 hit
50 uses

Al Sword

Grants +2 skill
+4 might and +5 hit
50 uses

Tina Staff

Now acts as a Physic staff
30 uses

Divinestone:

Unbreakable
Gives +8 atk, +8 skill, +12 def, and +16 res
Down from +12 atk, +12 skill, +15 def, and +20 res

All Legendary Weapons:

Binding Blade
Playtesting and Balance Breakdown

Notice: Don't get this progress breakdown wrong, the gameplay has already been altered. I've already changed almost every map (again, aside from Ilia) and they are hopefully a lot better. The problem is playtesting and balance are still up in the air, and I can't finish balancing a map without sufficient enough playtesting. So you could say that I technically could release the hack since all the maps are done, but without enough playtesting I won't know if these map changes are actually to the betterment of the map or not. My own thoughts on a map and my specific strategy for tackling a map can only go so far.

Chapter 1 - Fully playtested + Fully balanced
Chapter 2 - Fully playtested + Fully balanced
Chapter 3 - Fully playtested + Fully balanced
Chapter 4 - Fully playtested + Fully balanced
Chapter 5 - Incomplete playtesting + Fully balanced
Chapter 6 - Incomplete playtesting + Fully balanced
Chapter 7 - Fully playtested + Fully balanced
Chapter 8 - Incomplete playtesting + Fully balanced

Chapter 8x - Incomplete playtesting + Fully balanced

Chapter 9 - Incomplete playtesting + Fully balanced
Chapter 10A - Incomplete playtesting + Fully balanced
Chapter 11A - Fully playtested + Fully balanced

Chapter 10B - Fully playtested + Fully balanced
Chapter 11B - Fully playtested + Incomplete balancing
Chapter 12 - Incomplete playtesting + Fully balanced

Chapter 12x - Incomplete playtesting + Fully balanced

Chapter 13 - Incomplete playtesting + Incomplete balancing
Chapter 14 - Incomplete playtesting + Incomplete balancing

Chapter 14x - Incomplete playtesting + Fully balanced

Chapter 15 - Fully playtested + Fully balanced
Chapter 16 - Fully playtested + Fully balanced

Chapter 16x - Incomplete playtesting + Incomplete balancing

Chapter 17I - Incomplete playtesting + Incomplete balancing
Chapter 18I - Incomplete playtesting + Incomplete balancing
Chapter 19I - Incomplete playtesting + Incomplete balancing
Chapter 20I - Incomplete playtesting + Incomplete balancing

Chapter 17S - Incomplete playtesting + Fully balanced
Chapter 18S - Incomplete playtesting + Incomplete balancing
Chapter 19S - Fully playtested + Fully balanced
Chapter 20S - Incomplete playtesting + Incomplete balancing

Chapter 20Ix - Incomplete playtesting + Incomplete balancing
Chapter 20Sx - Fully playtested + Fully balanced

Chapter 21 - Incomplete playtesting + Incomplete balancing

Chapter 21x - Incomplete playtesting + Incomplete balancing

Chapter 22 - Incomplete playtesting + Incomplete balancing
Chapter 23 - Incomplete playtesting + Incomplete balancing
Chapter 24 - Fully playtested + Incomplete balancing
Finale - Fully playtested + Incomplete balancing
(I'm accepting playtesters btw DM me on Discord if you're interested. Thank you!)
Project Sienna estimated release date: Within this year