Working on another text edit. Not enough done yet to justify posting though. Found something worth mentioning in "Support Stat Boosts".

The circled "Defense" should be "Hit". The circled "Critical" should be "Crit Evade" (or "C Evade" if space is lacking. I can alter after the text is inserted if needed, however
)
Edit: It appears that this may also be an issue with the base Japanese text, should set and fix for both.
Edit2: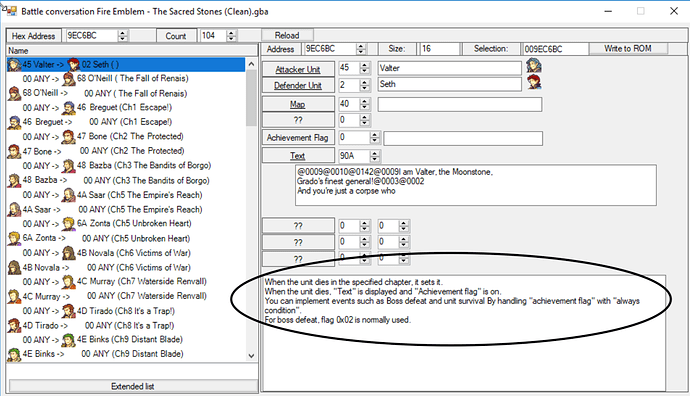 This selection uses the wrong text address. It should use:
:指定したユニット同士が、指定した章で戦闘を行った時の設定をします。\r\n戦闘に入ると、「テキスト」を表示し、「達成フラグ」が有効になります。\r\nボスとの戦闘の場合、フラグは、0x01 「ボス会話フラグ」 が利用されることが多いです。
Set when the specified units battle in the specified chapter.\r\nWhen entering battle, "text" is displayed and "achievement flag" is on.\r\nIn the case of battle with the boss, 0x01 "boss conversation flag" is often used as a flag