I am looking to take this character art and make the edges loop.
Original art:

The left side is much darker than the right side and I'm not sure how to change that.
The atrocity I've turned it into: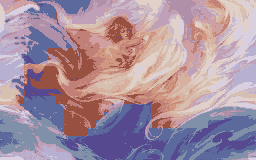 What it looks like ingame with effects:
Chapter intro image
If anyone could share ideas or suggestions on how to blend it such that the image can loop properly, that would be appreciated.
I know very little about image editing, so any help is appreciated.