Hey everyone,
I have a pretty confusing problem. I created a few animations for a character and inserted them via FeBuilder, but I have some annoying problems with it. So I created a script that should work, but for some reason it doesen't. In the game the time I give every frame (p-) doesn't work properly and everthing is at the same speed. my meele/ranged animation works fine like that (I would prefer more options tough), but the crit animations for meele/range just speeds up immensely even tough I gave more time to the frames. It's really annoying.
The other thing is that the looping doesn't work properly. It's supposed to loop the frames after the command until the C01, but sometimes it loops a few frames before that too and that just looks ugly.
I tried to compare it to similar animations, but I can't find the issue. (the similar one works just fine btw)
I tried to use a clean rom just in case, but it didn't work there ether.
It's really bugging me and I don't want my work to be lost because of that.
edit: Here is how it looks in the game. maybe it helps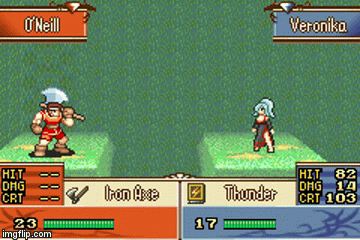 Here is the script:
[SPOILER=Script]/// - Mode 1
C03
C07
4 p- Veronika_attack1.bmp
4 p- Veronika_attack2.bmp
4 p- Veronika_attack3.bmp
4 p- Veronika_attack4.bmp
4 p- Veronika_attack5.bmp
4 p- Veronika_attack6.bmp
4 p- Veronika_attack7.bmp
4 p- Veronika_attack8.bmp
18 p- Veronika_attack9.bmp
8 p- Veronika_attack10.bmp
8 p- Veronika_attack11.bmp
8 p- Veronika_attack12.bmp
8 p- Veronika_attack13.bmp
6 p- Veronika_attack14.bmp
6 p- Veronika_attack15.bmp
6 p- Veronika_attack16.bmp
10 p- Veronika_attack17.bmp
C05
4 p- Veronika_attack18.bmp
4 p- Veronika_attack19.bmp
L
4 p- Veronika_attack20.bmp
4 p- Veronika_attack21.bmp
4 p- Veronika_attack22.bmp
C01
4 p- Veronika_attack23.bmp
4 p- Veronika_attack24.bmp
4 p- Veronika_attack25.bmp
4 p- Veronika_attack26.bmp
C06
C0D
/// - Mode 3
C03
C07
4  p- Veronika_attack1.bmp
4  p- Veronika_Critica1.bmp
4  p- Veronika_Critica2.bmp
7  p- Veronika_Critica3.bmp
4  p- Veronika_Critica4.bmp
4  p- Veronika_Critica5.bmp
4  p- Veronika_Critica6.bmp
5  p- Veronika_Critica7.bmp
4  p- Veronika_Critica8.bmp
4  p- Veronika_Critica9.bmp
4  p- Veronika_Critica10.bmp
C05
4  p- Veronika_Critica11.bmp
4  p- Veronika_Critica12.bmp
L
4  p- Veronika_Critica13.bmp
4  p- Veronika_Critica14.bmp
4  p- Veronika_Critica15.bmp
C01
4  p- Veronika_Critica16.bmp
4  p- Veronika_Critica17.bmp
4  p- Veronika_Critica18.bmp
C06
C0D

/// - Mode 5
C03
C07
4 p- Veronika_attack1.bmp
4 p- Veronika_attack2.bmp
4 p- Veronika_attack3.bmp
4 p- Veronika_attack4.bmp
4 p- Veronika_attack5.bmp
4 p- Veronika_attack6.bmp
4 p- Veronika_attack7.bmp
4 p- Veronika_attack8.bmp
7 p- Veronika_attack9.bmp
4 p- Veronika_attack10.bmp
4 p- Veronika_attack11.bmp
4 p- Veronika_attack12.bmp
4 p- Veronika_attack13.bmp
4 p- Veronika_attack14.bmp
4 p- Veronika_attack15.bmp
4 p- Veronika_attack16.bmp
10 p- Veronika_attack17.bmp
C05
4 p- Veronika_attack18.bmp
4 p- Veronika_attack19.bmp
L
4 p- Veronika_attack20.bmp
4 p- Veronika_attack21.bmp
4 p- Veronika_attack22.bmp
C01
4 p- Veronika_attack23.bmp
4 p- Veronika_attack24.bmp
4 p- Veronika_attack25.bmp
4 p- Veronika_attack26.bmp
C06
C0D
/// - Mode 6
C03
C07
4  p- Veronika_attack1.bmp
4  p- Veronika_Critica1.bmp
4  p- Veronika_Critica2.bmp
7  p- Veronika_Critica3.bmp
4  p- Veronika_Critica4.bmp
4  p- Veronika_Critica5.bmp
4  p- Veronika_Critica6.bmp
5  p- Veronika_Critica7.bmp
4  p- Veronika_Critica8.bmp
4  p- Veronika_Critica9.bmp
4  p- Veronika_Critica10.bmp
C05
4  p- Veronika_Critica11.bmp
4  p- Veronika_Critica12.bmp
L
4  p- Veronika_Critica13.bmp
4  p- Veronika_Critica14.bmp
4  p- Veronika_Critica15.bmp
C01
4  p- Veronika_Critica16.bmp
4  p- Veronika_Critica17.bmp
4  p- Veronika_Critica18.bmp
C06
C0D

/// - Mode 7
C02
1 p- dodge1.bmp
C0E
3 p- dodge2.bmp
1 p- dodge3.bmp
C01
3 p- dodge2.bmp
C0D
/// - Mode 8
C02
1  p- dodge1.bmp
C0E
3  p- dodge2.bmp
1  p- dodge3.bmp
C01
3  p- dodge2.bmp
C0D

/// - Mode 9
1 p- dodge1.bmp
C01
/// - Mode 10
1  p- dodge1.bmp
C01

/// - Mode 11
1 p- dodge1.bmp
C01
/// - Mode 12
C03
C07
3  p- Veronika_attack1.bmp
3  p- Veronika_attack2.bmp
3  p- Veronika_attack3.bmp
3  p- Veronika_attack4.bmp
3  p- Veronika_attack5.bmp
3  p- Veronika_attack6.bmp
3  p- Veronika_attack7.bmp
3  p- Veronika_attack8.bmp
7  p- Veronika_attack9.bmp
3  p- Veronika_attack10.bmp
3  p- Veronika_attack11.bmp
3  p- Veronika_attack12.bmp
3  p- Veronika_attack13.bmp
3  p- Veronika_attack14.bmp
3  p- Veronika_attack15.bmp
3  p- Veronika_attack16.bmp
10 p- Veronika_attack17.bmp
C05
4  p- Veronika_attack18.bmp
3  p- Veronika_attack19.bmp
L
3  p- Veronika_attack20.bmp
3  p- Veronika_attack21.bmp
3  p- Veronika_attack22.bmp
C01
3  p- Veronika_attack23.bmp
3  p- Veronika_attack24.bmp
3  p- Veronika_attack25.bmp
3  p- Veronika_attack26.bmp
C06
C0D

/// - End of animation
[/SPOILER]