Greatings. Today I have the pleasure to introduce you to: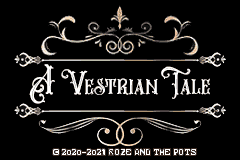 A Vestrian Tale is a FE8 rom hack. The project bases its gameplay, pacing and economy around the capture mechanic.
The chapters contain a large number of items to capture, making it impossible to obtain everything without a huge stroke of luck or an extensive knowledge of maps.
The game is also balanced around True Hit, making capturing certain items more risky, and creating a duality between powerful but inaccurate weapons and between those of great precision but low power.
However, bad luck can hit even the best of us, for this reason maps provide the player with handy save points.
Plot

A thousand years ago,dragons came from the sea. With them, humans gave birth to a thriving civilization. However, peace did not last forever.
Without any warning, the dragons attacked the humans, and a bitter conflict broke between the two races.
With huge losses, mankind wiped out the dragons.The wisdom and knowledge they had brought disappeared as well.
What is left is preserved in a few ancient and precious books.
One of these manuscripts was recently found by Lady Lafayette and her team of archaeologists.
Follow Ezekiel and his gang in their quest to snatch this treasure. Who knows, a little
secret may be hidden among its old and ruined pages.
Features

A new story, set in the nation of Vestria
10 chapters
20 playable units planned
An in-game economy focused on capture
1 RNG
DSFE styled save points
Custom and rebalanced weapon
Universal promotions items
Movement skills (and not only)
Custom tracks, mainly ports from the Pokémon series
Thracia trading
Screenshots