0% Growths
In recent years (okay, that may be a bit too much of a generalization) the concept of a 0% growths run has risen in popularity, in which all playable character's growths have been set to 0%. The ability to see if it's possible to complete a game under the most stat screwed conditions gave a very big shift on which units are viable in a given game. It let lategame prepromotes have more of an impact on your team than what would ordinarily be expected.
Hacks
One may ask how does the concept of 0% growths translate to hacks. To answer this, we should look at some lategame units in vanilla FE games.

From Binding Blade, we have Niime, the Mountain Hermit. She starts at level 18 with these stats. Whlie she does have a frailty issue, her main appeal is that 21 magic of hers as well as A rank in both dark and staves, meaning she is likely gonna be a good Apocalypse user as well as being able to use Warp at base. Niime is basically what every offensive magic user in FE6 tries and fails to do, that being good combat at base (excluding an underflow glitch from Hugh). She also helps on the utility front.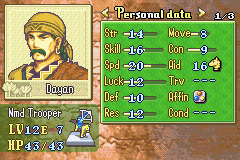 While no one in their right mind would want to go to Sace in FE6, especially HM, due to how annoying it can be to fight the nomads there, you do get this guy in chapter 20. Looking over his bases, he has 20 speed, which is enough to double most of the enemies left to fight, barring the faster ones like Heroes, Swordmasters, and other nomad troopers. With a silver bow, he will be the only unit at base to be able to ORKO the Wyvern Lords in 20x, 21, and 23, and with his A rank in bows, it shouldn't take too long to have Mulagir access to help fight off the many manaketes that swarm the endgame. His strength could use some help, but thanks to the secret shop in chapter 21, after you bought your fair share of boots, it would help to spare this man a energy ring or 2. Dayan is a great emergency combat unit for the time he joins, because wyverns are gonna be the big problem, and the other nomads are likely gonna be the best at dealing with them, even so seeing their chief help out is nice.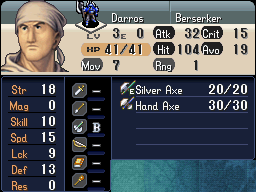 In FE12, Darros received a new coat of paint from his pirate days, not too sure why he joined the fire tribe in the process, however. Anyways, with a newfound conviction to do the right thing, Darros is making sure he was gone from his pirate days. As a Berserker, 18 Strength lets him at least have decent damage output, 15 speed lets him avoid being doubled for the next few chapters, even on higher difficulties unless he's fighting something really speedy like a swordmaster or a wyvern, before things like star shards, reclassing, and rainbow tonics. 41HP and 13 Def means he can at least take a hit in a game where offenses on both sides of the aisle are absurd. Having B axes is also amazing because he will be able to use most axes you have available at this point, with the sole exception of Hauteclere. While one may be worried about his 10 skill and axes being the least accurate physical weapon in FE12, one thing to know about FE12 is that hit rates tend to be high, so accuracy isn't too much of a problem.

In FE5, one of the prepromotes you get in chapter 1 goes by the name of Dagdar. Aside the base stats listed here, he also has A rank axes, 7 movement, 1 movement star, and the accost skill, which is based on HP, in his case, a meaty 43. While his growths seem bad, and trust me, they are, the enemy quality in FE5 tends to be rather abysmal, so achieving decent combat is not too hard to reach; it's partially why staff utility is so valuable in the first place. Back to Dagdar, his stats suggest he was made for this game. 43 HP means he won't be easily fatigued and may be able to 5 map straight without needing to take a breather. 14 strength lets him do massive amounts of damage with a strong axe, and even if his 9 speed doesn't sound too fast, he will be able to ORKO many things with most axes, thanks to his 15 constitution. 10 defense lets him also be able to tank many things, sometimes for 0 damage. Accost also works with his massive HP to extend combat.
Now why would I list units from vanilla FEs to illustrate my point? It's because these units can give your team a second wind in the event your own team isn't doing too hot. It's also why the Gotoh archetype is given so much value.
You
Now that I've (hopefully) told you all why I believe balancing for 0% is important, I was wondering how other people think of 0% growths situations. Mostly because I figured I may be putting too much importance on the player being ultra screwed.